Skip to Content
Explore Benefits of Good Lighting in Fredrick, MD
Explore Benefits of Good Lighting in Fredrick, MD
Rely on Provident Electric for Lights and Safety
When it comes to your home or business, overall safety and security lighting play an integral role. Whether you're ready to update your current lightbulbs or want to invest in recessed lighting fixtures, you'll want to work with a team of dedicated, seasoned professionals. Provident Electric offers our premium electrical services throughout Frederick, Mt Airy, Germantown, Westminster, and Middletown, MD. You'll work with our qualified electricals to design a lighting installation that makes your home or business safer for everyone. We've compiled some of the most significant benefits of good lighting for your home or business. We encourage you to reach out if you have any questions or are ready to upgrade your home's lighting today!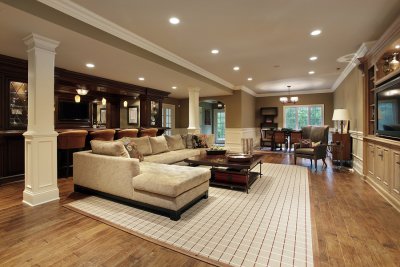 Explore the Benefits of Good Lighting for Your Home
Homeowners often underestimate the importance and the benefits that good lighting can provide. Good lighting can do more than illuminate your space. It can help brighten a space and impact your overall health, budget safety, and mood. We've compiled a list of some of the most significant benefits good lighting can provide for your home, including:
Help You Avoid Slips and Falls – When you cannot see where you're walking, especially on stairs or long hallways, you're more likely to slip, trip, or fall. Investing in a good lighting installation can help you prevent these accidents altogether. As you plan your new lighting design, you'll want to add light fixtures that help illuminate dark spaces throughout your home.
Deter Theft – Investing in indoor and outdoor lighting installation can help drastically enhance your safety and security. For example, outdoor security lights can be activated via motion sensors to help you find potential burglars. If someone is trying to target your home, they'll be deterred by the security light turning on.
Avoid Unnecessary Eyestrain – Beyond keeping you safe and helping you avoid falling, good lighting can help the well-being of your eyes. Ensuring your space is illuminated is vital to avoid eyestrain if you work from home, enjoy reading, or work on the computer. Poor lighting can lead to eyestrain, which causes headaches and vision issues. We'll work with you to include fixtures designed to illuminate your workspace correctly.
Save Money – Great lighting will help you save money on your monthly electric bill. Lighting technology has improved, and more options are available that consume less electricity. For example, LED lighting is designed to use approximately 75% less energy than other bulbs.
Improved Mood – Not only is a dark home not good for your eyesight, but studies show dim lights aren't good for your mood. Dark and low lighting options create a gloomy environment.
Better Sense of Space – Unlit homes can feel stuffy and overly cramped. Adding in good lighting can make any room feel more spacious. Our experienced team can work with any space to ensure you have the right lighting setup you need and help your home feel more open and welcoming.
Discover the Benefits of Good Lighting for Your Business
Investing in good lighting for your business will influence employee behavior and productivity while enhancing your overall safety. The average American employee spends roughly 2,000 hours in their workplace, so it's important to maintain good lighting to keep your employees happy and productive. We've compiled some of the most significant benefits good lighting can have on your business, including:
Improved Productivity – The environment of your business plays a significant role in your team's overall productivity. Our team will work with you to design workstations, proper lighting, and more to ensure your employees are satisfied. Further, studies have shown that good lighting can boost work productivity and efficiency.
Save on Your Energy Bill – One of the most impactful benefits of upgrading your lights is your reduced energy bill. LED lights consume significantly less energy and are as effective as other light bulbs. They're available in several designs and shapes, meaning they can seamlessly integrate into your office.
Protect Your Worker's Health – A properly illuminated workspace is important to help protect your eyesight. Lights help reduce the burden on your eyes while lowering eye strain. Further, good lighting helps reduce mental fatigue, depression, and stress. Investing in good lighting helps ensure a happy and healthy team.
Improved Workplace Safety – Good lighting will reduce the likelihood of an accident and make operating equipment easier. This is especially important when working with heavy equipment, hazardous chemicals, and more.
Take Advantage of Different Types of Lighting
Regardless of whether you're looking to upgrade the lighting for your business or home, it's important to know about the different types of lighting. Each different type of lighting provides a different look and feel. We've created a list of the three main types of lighting. When you call our team for help, we'll work with you to find the right lighting combination to keep your property well-lit and comfortable. Take a look at the three main types of lighting:
Ambient Lighting – Ambient lighting is also called mood lighting or general lighting. It's a soft diffused lighting option and can mimic natural light depending on the light bulb. Overall, it's a gentle, relaxing type of lighting. Ambient lighting is known to bounce off walls to help illuminate your entire space. Unlike other types, this lighting has no glare or a spotlight feature. If you want to use ambient lighting, standard models include chandeliers, LED downlights, wall scones, and recessed lighting fixtures.
Accent Lighting – Accent lighting is perfect if you want to create visual interest in key parts of your space. It's commonly used in spotlight sculptures, houseplants, paintings, bookcases, and more. Accent lighting is highly concentrated, so it draws attention to key points. They're commonly used in outdoor areas, historical buildings, and museums. Common accent fixtures include sconces, picture lights, track lights, and under-cabinet lighting.
Task Lighting – As the name suggests, task lighting helps you perform specific tasks such as sewing, reading, working, cooking, or gaming. We recommend ensuring your task lighting is glare and shadow-free and should be bright enough to avoid eyestrain. Task lighting helps provide focused light that lets you see smaller objects while improving overall accuracy. Some common task lighting fixtures include pendant lighting, recessed fixtures, or under-cabinet lighting.
What's Better: Warm or Cool Lighting?
Did you know that warm or cool lighting can make a difference in how a particular room feels? Different temperature colors of light affect your mood and productivity. For example, an office using warm light will decrease productivity and could cause drowsiness. On the other hand, cool lighting in the bedroom will make it harder to relax and get to sleep. To determine which temperature is best for what room, remember that warm lighting is soft and relaxing and is designed to enhance comfort. While cool lighting is sharp and clean and promotes energy and awareness. With that information in mind, utilizing the right fixture is important to get the desired result. Take a look at some major types of lighting fixtures:
Recessed – These fixtures are installed above your ceiling. The opening is flush against the ceiling. We use installation to ensure condensation doesn't get into the light fixture and cause a short. They offer a narrow band of light and are often used as task, accent, or ambient lighting.
Under-Cabinet – This style of fixture is adhered to under your cabinets and can provide a focal point. It is most commonly used in the kitchen to help with cooking, but it can be used to highlight art or bookcases.
Track – Track lights are either suspended or mounted from your ceiling. These consist of a linear housing that features several heads that can be positioned anywhere along a track. The heads can be adjusted to focus on one spot or to provide light to an entire room. These are most commonly used for accent or task lighting.
Ceiling – One of the most commonly used fixtures. Ceiling lights are installed directly onto the ceiling and can easily light an entire room. It's important to note that most of these fixtures must be directly installed into the electrical system and controlled with switches.
Chandeliers – Chandeliers make a statement and are ideal for entertaining guests. The light these put off can easily fill a wide radius.
Pendant – This style of light is hung from the ceiling from a long chain or cord. They can be used for task lighting or as a decorative piece. Pendant lights offer the most flexibility for designs and styles, but the light emitted is less than chandeliers.
Be Sure to Put Lighting and Safety First
Provident Electric offers timely and efficient electrical services to residential and commercial properties. We have a team of highly skilled and experienced electricians committed to helping you get the lighting you need to lead a safe and productive life. Whether you need new recessed lighting fixtures installed or replace outdated light bulbs with new modern, energy-efficient ones, we'll be there to help. You can rely on us to inspect your home or business's layout and recommend the best layout to improve security and aesthetic appeal. We'll be with you through every step of the project. Reach out to learn more about our services today!