Skip to Content
We Install Home Automation Systems in Frederick, MD
Home electrical automation has become a normal part of our society, and the industry is growing daily. With people using wireless technology like smartphones and tablets to make everyday tasks easier, it only makes sense that we now use them to automate our homes. This smart technology offers many benefits, but we know it can be a lot of information to take in, so read over this guide before you upgrade your home.
What Are the Benefits of Home Automation Systems?
Home automation systems offer a variety of benefits depending on which devices you choose to install. Here are some common perks:
Convenience – Forgot to turn off a light? Want to adjust the thermostat before you arrive home? Now you can do it all from your smartphone or tablet. Control the lights, adjust the temperature, lock or unlock the door, and more with a home automation system.
Easy Control – If you have access to a smartphone or tablet, you can use an app to control your home automation technology from practically anywhere. You can also use voice commands to get your virtual assistant to complete tasks, which can be very useful. For instance, if you're returning home and your hands are completely full, simply tell your virtual assistant to turn on the lights so you don't have to drop your items to flip the switch.
Energy Savings – The added control of your energy usage means you could save a significant amount of money each month on utilities. Even if you're away from home, smart home automation allows you to quickly turn off anything you aren't using by simply using an app. You can also set up timers to turn lights on and off or change the temperature on schedule.
Better Security – When all of your electrical components are connected, it's easier to keep your home protected and check in on things while you're away. Let's say you've chosen to install a security camera with a motion sensor near your front door. While you're out running errands, you get a notification on your phone that motion was detected on your front porch. You can open the app and check the footage to see that it was just a delivery, not a home security breach.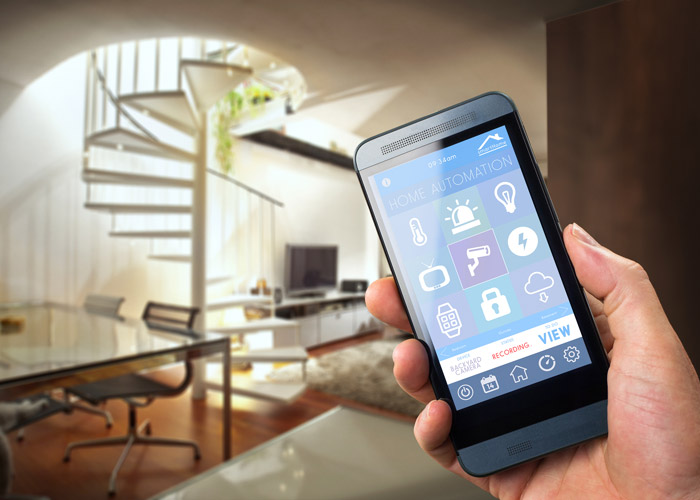 Different Types of Home Automation Technology
There is so much home automation technology available that everyone can find a device that makes their life easier. Here are some home automation ideas:
Lighting and appliance controls
Thermostat controls
Smart door locks
Opening systems for doors, gates, windows, drapes, and blinds
Sensors (motion sensors, carbon monoxide detectors, etc.)
Virtual assistant
Smart speaker
Cameras (for indoor and outdoor security, monitoring babies or pets, etc.)
Robotics (to control a robotic vacuum cleaner or other similar devices)
Smart washer and dryer
Are Home Automation Systems Worth It?
Smart home systems can give you more control and make life easier – so yes, many people would say they are worth the investment! The cost is something to consider, but you don't have to upgrade everything at once to enjoy the benefits of home automation. Even choosing a few smart home devices could make your home more comfortable and secure. Plus, installing smart technology can actually save you money on utilities over time.
Contact Provident Electric for Home Automation Services
Tying all of the electrical components in your home to one system is no easy task. You need an experienced professional to get the job done correctly. Provident Electric has certified installers for home automation systems, including Lutron, Nest, and Ring, as well as other nationally-recognized brands. We'll work with you to ensure all components in your home are integrated into the system. Call us at 301-620-2227 or contact us to schedule your free consultation today.
Get Started with a Free Consultation