Skip to Content
The Difference Between Commercial and Residential Wiring
Provident Electric Provides Complete Wiring System Services
Home and business owners require different electrical needs. Business owners are concerned with ensuring their employees are comfortable and their property is safe for customers. At the same time, homeowners may be trying to keep their electricity costs low. The skilled electricians at Provident Electric understand the unique difference between wiring types in homes and businesses throughout Frederick, Mt. Airy, Germantown, Westminster, and Middletown, MD. Since 2002, we have been the company home and business owners throughout the community trust for fast and reliable electrical work. Our electricians are committed to providing our customers with the very best service. We're available 24/7 for all your emergency electrical needs. Whether you need commercial or residential wiring repair, installation, or replacement, we can help.
Power Requirements for Commercial Properties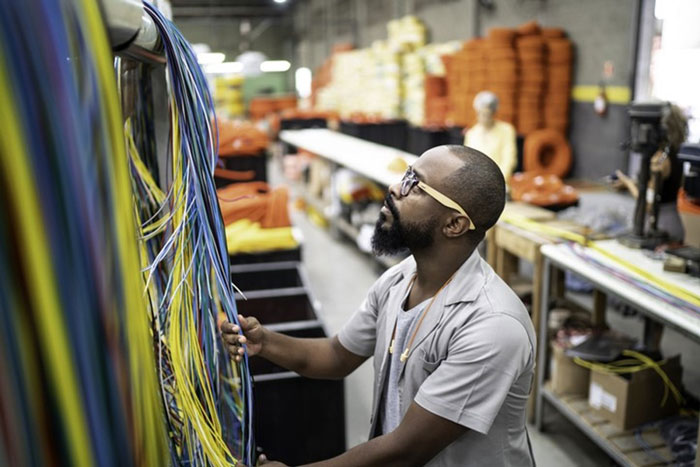 Whether you run a hotel, own a local restaurant, or manage a retail center, you're going to have unique electrical power needs to ensure your business can operate. Commercial properties rely on a three-phase system to ensure it can handle the required load for your business. Two legs operate at 120 volts in the three-phase system, while the third runs at 208 volts. The three-phase system is designed to sufficiently provide enough electricity to power higher power draw appliances. There are two common types of three-phase systems: the delta configuration, which only requires three wires, and the wye configuration, which includes a fourth, neutral wire. Discover the benefits of the three-phase system for businesses:
Steady and Sufficient Power Supply
Helps Keep Costs Low
Improved Energy Efficiency
Lower Cost to Run
Reduces the Workload of Each Wire
Residential Power Loads
Homes have significantly less power requirement than commercial buildings. Most homes throughout the area rely on a single-phase circuit of 120 volts. However, some high-power draw appliances, such as your dryer, washing machine, and refrigerator fridge, require a two-phase circuit of 240 volts. A single-phase circuit consists of one power wire and one neutral wire. If there is an interruption in power flow in the power wire, it can cause an interruption in the entire system. Due to the rise and dips in voltage, single-phase wiring systems may not offer the same level of consistency when compared to a three-phase system. However, a single-phase has been used in domestic settings for decades. Some of the most significant benefits of a single-phase electric system include:
Simple Design and Operation
Safe and Effective for Home Use
Easy to Maintain
Long Lasting
Lower Upfront Installation Cost
Commercial Three-Phase Wiring Installation and Equipment
When new commercial construction is being erected, three-phase wiring is installed throughout the space. The wiring is covered by a thermoplastic, heat-resistant nylon (THHN) to protect it against corrosion and wear. It's then placed in tube-like containers for additional protection. The wires are then run throughout the building to provide sufficient electricity where it's needed. This installation process makes accessing your wiring when it requires maintenance or repairs easy for our electricians. Three-phase wiring requires additional power and, therefore, utilizes a unique installation process and equipment to complete. Three-phase wiring systems are designed to provide even and efficient electricity in a variety of commercial and industrial environments, including:
Warehouses
Restaurants
Shopping Centers
Office Buildings
Hospitals
Medical Facilities
Schools
Hospitals
And More
Residential Single-Phase Wiring Installation and Equipment
Most one-phase wiring installations can support the electrical needs of a single-family home. They are capable of producing up to 2,500 watts, which is enough to power personal computers, TVs, portable devices, and more. The electrical wiring is protected by PVC sheath and installed behind walls, in the attic, and in crawl spaces in new home construction. The purpose is to protect the wiring from degradation and the homeowners from accidental shock and electrocution. Though installing a single-phase wiring system is more straightforward, it's because the power requirements are much less than in a commercial building.
Would My Home Benefit from a Three-Phase System?
If three-phase systems are more affordable and efficient, why not install them in your home? The two significant barriers include installation price and aesthetics. Three-phase systems require significantly more material. There are three power wires, each sharing the load as well as a neutral wire. By quadrupling the amount of material per square foot, you're significantly increasing the initial installation cost. Aesthetic is another primary consideration for homeowners. Most commercial building owners are more concerned with functionality than aesthetics. Three-phase is designed to be obvious and easily accessible, which would detract from almost any style of home. However, there are instances where three-phase systems are ideal for residential use. Please speak with our electricians today to schedule your free consultation.
Is a Single-Phase Wiring System Enough Power for My Home?
Yes. Single-phase wiring systems are used in residential buildings throughout Frederick, Mt. Airy, Germantown, and beyond because it's a safe, efficient, and affordable way to power your home. A single-phase wiring system can last for years or even decades without needing replacement if adequately maintained. It can deliver enough power throughout the house to power your lights, smart devices, TVs, and much more. Single-phase is even powerful enough to power heavy appliances such as your stove, dryer, and refrigerator. Homeowners can feel confident a single-phase wiring system is more than capable of meeting and exceeding their electrical needs.
Discover Why We're the Electrician You Can Trust
Our electricians offer both residential and commercial electrical services throughout the area. Whether you need an electrical contractor for new construction or you're replacing your wiring system, we can assist. We have decades of experience inspecting, designing, and installing sufficient wiring systems that fits your commercial or residential needs. Our team has the proper equipment to handle any electrical project, regardless of its size or scope. We use high-quality products and materials installed correctly to ensure long-lasting and safe results. Learn more about why home and business owners throughout the area choose us for their electrical services:
Award-Winning Services
Member of the BBB
Member of the IEC
Friendly and Trained Electricians
Free Electrical Consultations
Reasonable Prices
Trust the Professionals at Provident Electric
Since 2002, home and business owners throughout Frederick, Mt. Airy, Germantown Westminster, and Middletown, MD have trusted Provident Electric for reliable electrical services. As the area's leader, we can ensure your home or office has sufficient power to keep you and your occupants safe. Our knowledgeable and experienced electricians have access to high-quality materials and the proper equipment to handle any size job. Whether you need a light switch replaced or a three-phase wire system installation, you can always count on us to deliver an exceptional final project on time. We also offer 24/7 emergency services. Contact our electricians today to schedule your free consultation and learn more about installing three-phase and single-phase wiring installations.
Get Started with a Free Consultation