Skip to Content
Your Local Source for Generac Generators in Frederick, MD
Electrical outages are no time to consider your back up power options. Plan ahead and ensure you're always prepared when disaster strikes with the installation of a Generac generator at your home or business. Provident Electric provides new installation, repair, and service of Generac generators in the Frederick, MD area. We are one of the top Generac dealers in the region, providing all the service you need. Don't wait until it's too late and you're sitting in the dark waiting for power to return. A generator will ensure you lose no business hours and have all the necessities you need during an outage. Call our team today to learn more about our products or to schedule a free consultation.
Why You Need a Backup Power Source
Installing a backup generator may seem like an expensive investment, but when you consider all the money that could be saved in the event of a disaster, this decision is a no brainer. Outages can happen at any moment due to a storm, a failure in the power grid, or a number of other incidents. If you don't have another power source, you could be in the dark for hours, without heat or air conditioning and without power to run your appliances. This is not only an inconvenience but is also dangerous as these necessities are required for normal day-to-day life.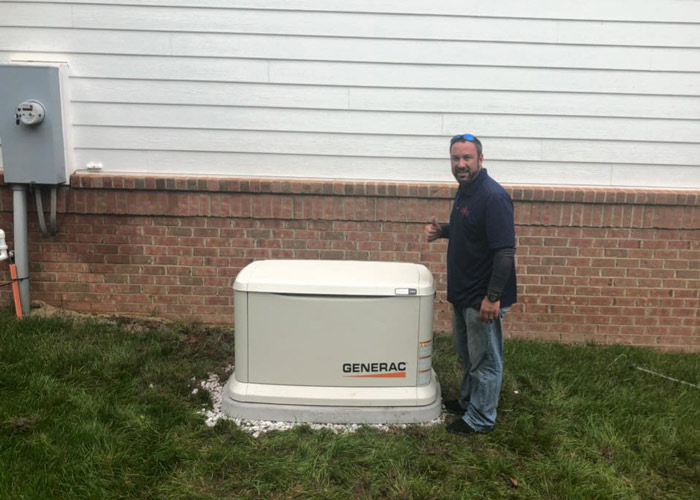 Installing a Generac generator at your Frederick, MD home or business can save you in the event of an outage. The advantages of installing a backup generator include:
Immediate source of power: Generac generators are designed to turn on as soon as a power failure is detected. This automatic feature will protect any of your equipment or assets that could be damaged by a power failure.
Potential cost savings: One of the main concerns, when power is lost, is food spoilage, as fridges and freezers can only keep your items cold for so long after power is lost. With the automatic backup provided by a generator, your appliances will have no interruption in power, allowing them to keep food cold and prevent the cost of replacing spoiled food. Even if you are not home during the outage, the generator will turn on and restore power right away.
No gasoline required: Generac generators are powered by either natural gas or propane. This means you will not have to worry about buying gasoline or having to refill the fuel while the generator is actively operating.
Installation, Service, and Repair
At Provident Electric, we have a team of trained professionals to complete your generator installation and ensure you're ready when an outage happens. We have a team of certified Generac installers and repairmen available for any Generac home standby generator needs. Our team provides service and repairs of existing generators, including servicing any warranty claims and any other issues with your Generac generator. Whether your system needs an annual checkup or you have noticed that the system is not working properly, please reach out to us to schedule a service call.
Testimonials from Satisfied Generac Customers
My son is on life-support equipment in our home. Our generator gives us the peace of mind that he will be okay in the event of a power outage. Your technicians were so knowledgeable and put us at ease during the installation process. Thank you!
So relieved to have back-up power installed by a company that backs up its products and services!
Our recent storm damage put our neighbors in the dark for days. We were so happy to have our power running, and so we've referred Provident to each neighbor so they can take advantage of back-up power as well.
Get Started with a Free Consultation