Skip to Content
Generac Generator Services in Frederick, MD
Your Local Source for Generac Generators in Frederick, MD
Provident Electric is proud to be Frederick, MD's choice for Generac generator services. We understand electrical outages can be scary and aren't a time to consider your backup power options. It's critical to plan and ensure you're always prepared with the installation of a Generac generator at your home or business. Provident Electric provides new installation, repair, and service of Generac generators in the Frederick, MD, area. We are one of the top Generac dealers in the region, providing all the services you need. The loss of power can lead to a loss of production at work and an uncomfortable environment at home. Call us today to schedule a free consultation.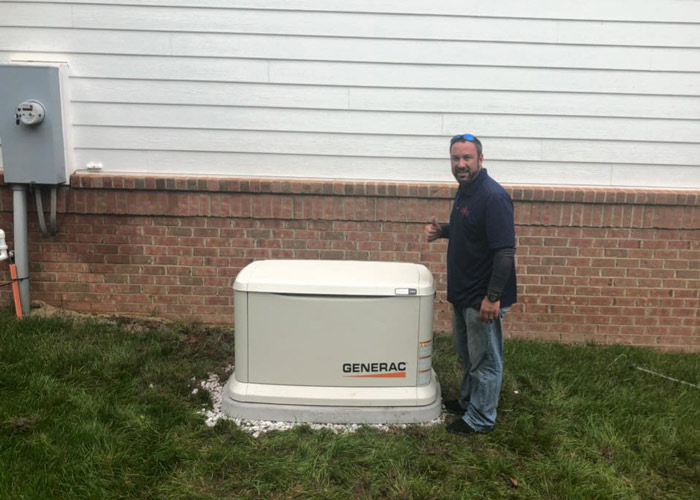 Generac Generator Repair Services
We have a team of certified Generac installers and repair technicians who are here for all your Generac generator repair needs. Our team provides service and repairs of existing generators, including servicing any warranty claims and any other issues with your Generac generator. The most common Generac generator problems we fix include:
Dead Battery –The generator will not run if the battery is dead, so we'll quickly replace the batteries.
Cracking Belts –We can replace your dry or cracked belts.
Low Coolant Levels – Low coolant levels lead to overheating, so we will inspect for coolant leaks and ensure your generator has the correct coolant levels.
Wiring –If rodents or weather has damaged your wiring, we can quickly repair it.
Burnt Electrical Components – Burnt electrical components will often cause the generator to have trouble starting.
Generac Generator Benefits
We specialize in the installation of Generac whole-house generators. Generac has designed high-quality generators since 1959. The most significant benefits of a Generac generator include the following:
Immediate source of power that kicks on within ten seconds of a power loss.
Features a quiet mode to allow easy weekly tests.
Powered by either natural gas or propane to ensure you never need to refuel.
Features an easy installation process.
Generac Generator Maintenance
Your Generac generator runs throughout the year without much thought. It's critical to keep it protected with Generac generator maintenance. We'll service your generator to ensure it's good to go in case the power goes out. You should get your Generac generator inspected once or twice a year.
Why Choose Us for Generac Generator Repair Services?
Since 2002, Provident Electric has served Middletown, MD and the surrounding areas with fantastic residential and commercial electrical services. Our team is committed to offering our customers the most efficient and dependable services. We are by your side, from installation to maintaining your products. We have over 25 years of experience and have been voted best electrician by Frederick Magazine for over ten years. We always put you first to ensure your comfort.
Schedule Generac Generator Services in Maryland Today
Provident Electric is here for emergency repairs 24 hours a day, seven days a week. You can trust us to repair your Generac generators, provide fast generator installations, and offer ongoing maintenance services. Our licensed and insured electricians work hard for you. Our team understands the importance of a working generator, so we're always ready to address your Generac generator services.Contact us today for a free consultation!
Testimonials from Satisfied Generac Customers
My son is on life-support equipment in our home. Our generator gives us the peace of mind that he will be okay in the event of a power outage. Your technicians were so knowledgeable and put us at ease during the installation process. Thank you!
So relieved to have back-up power installed by a company that backs up its products and services!
Our recent storm damage put our neighbors in the dark for days. We were so happy to have our power running, and so we've referred Provident to each neighbor so they can take advantage of back-up power as well.
Get Started with a Free Consultation