Skip to Content
Home Electrical Inspection Services in Frederick, MD
Electrical troubleshooting necessitates knowledge and a disciplined approach. That's why you should hire a professional electrician to keep you safe and ensure that your electrical system is safe and up to code. Provident Electric is Frederick's number one residential electrical repair business. Electrical inspections are one of the many services we provide. We keep you up to code with National Electric Code (NEC).
Even though your house was constructed to code, the NEC is updated periodically to reflect improvements in technology and new knowledge. Your house will age as well, resulting in deteriorated outlets, wiring, and connections. Eventually, everything ultimately wears out. Regular maintenance and rapid repairs are beneficial, but nothing lasts forever. That's why it's important to conduct routine inspections to ensure you and your family's safety.
Learn about the importance of home electrical inspections and call us to schedule yours. We also provide 24/7 emergency electrical services throughout Frederick, MD.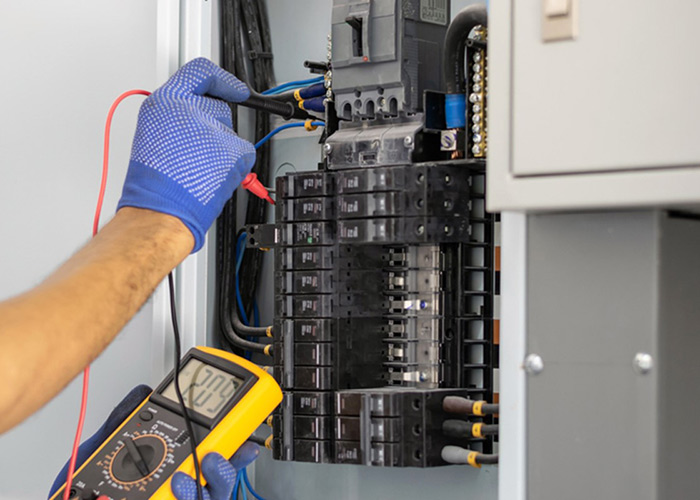 What Is Included in My Electrical Inspection?
We provide everything when you call us for a thorough electrical safety assessment in Frederick. Nothing is overlooked. You can expect the following services:
Inspect the wall wiring for any evidence of damage or overheating that might result in insulation fires
Check to see whether your electrical panel is overloaded and that none of the breaker switches are worn out
Every GFCI and AFCI circuit in your home should be tested
Make sure your smoke detectors are still operational
Following a basic building wear and tear assessment, our electrical inspection team will conduct a compliance check for the National Electrical Code. The best method to ensure that your electrical system is not only safe but also working at maximum efficiency is to follow the NEC's requirements.
Highly Professional and Impeccable Customer Service
At Provident Electric, whether you're a new residential customer or have trusted us for years, our goal is to minimize the inconvenience arising from an electrical issue and make your home a safe, beautiful place that you can be proud of and comfortable living in. We think great customer care and professional electrical services are the best way to ensure your electrical issues have been resolved correctly and safely. When you call Provident Electric for electrical repairs and replacements, our electricians arrive at your home in well-stocked fleet vans with the system components needed to complete most jobs. They will greet you with courtesy, and then all the time you need to fully explain what the electrical job entails and approximately how long it will take, giving you have a full understanding of what to expect. We will then finish the electrical job as quickly and safely as possible, so you and your family undergo only minimal disruption and delay.
When Should I Schedule an Inspection?
We understand that inspecting a property that has just finished construction may seem counterintuitive, but a thorough inspection may help you detect problems that were overlooked or items that were mistakenly left out during the original building. Similarly, hiring an electrical inspection firm, such as Provident Electric, to assess your home before purchasing a new one is always a good idea and occasionally essential. You are not only aware of what has to be addressed, but you may also be able to get those repairs included in the purchase contract.
We recommend calling us to schedule your home electrical inspection for the following reasons:
You finished construction on your new home
You're preparing your home for sale
It's been over ten years since your last inspection
You just purchased a home
Your home went through significant renovations
Why Provident Electric?
We recognize that electrical problems are inconvenient, but they can also pose a fire threat. Our skilled residential electricians are committed to delivering dependable and timely service so that you are safe and save money on utilities. We'll arrive on schedule and take care of your electrical issues quickly. Whether you're a new residential client or have relied on Provident Electric for years, our objective is to minimize the discomfort caused by an electrical problem and make your home a safe, beautiful, and comfortable place to live in. Home electrical inspections are just one of the many services we provide throughout Frederick, MD. Contact us today to schedule yours.
Schedule Your Home Electrical Inspection Today
Keep your home and your family safe by scheduling your residential electrical inspection from the expert and caring team at Provident Electric.
Get Started with a Free Consultation