Skip to Content
Welcome to Provident Electric
Established in 2002, Provident Electric has grown into one of the most trusted electrical contractors in the MD/DC/VA areas for both residential and commercial contracting.
Provident Electric knows that our clients and our employees come first. We are committed, above all else, to providing our clients with courteous, efficient, and dependable electrical contracting services. We further dedicate our staff and resources to improving the local community by way of local benefits and philanthropic projects. We pride ourselves on being an equitable and competitive workplace that encourages growth, education, and opportunity within.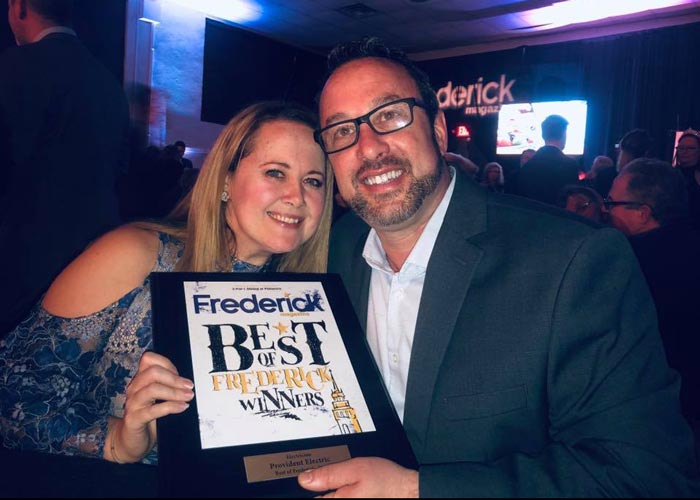 History
Provident Electric LLC was established by Baton Rouge native Larry Touchet in 2002. Starting from a small home-based garage, Provident's structure began exclusively with residential clientele. Touchet knew that, in order to grow, he would need to expand the company's client base as well as the services provided. A grassroots marketing campaign was implemented to target the clients at 'eye-level.' The efforts paid off, and Provident was ready to move on to the next phase.
Provident began expanding its services into the commercial industry, starting with small tenant fit-outs and rehab projects. To accommodate this growth, the company moved into a warehouse/office space in the heart of Frederick, MD.
As the months passed, and successful projects came to completion, Provident increased its employee base and began offering additional contracting services with more complex requirements. Project bids were awarded with steady increase, and soon, the company engaged project managers and foremen with years of industry experience to continue its path to success.
Provident recently doubled the size of its offices and warehouse in order to accommodate the company's continued growth. Today, Provident proudly provides contracting services to both residential and commercial clients in several facets.
Current and Past Affiliations
Better Business Bureau (BBB)
Dunn & Bradstreet
Independent Electrical Contractors Association (IEC)
National Association of the Remodeling Industry (NARI)
Building Trades Association
Frederick County Chamber of Commerce
Home Advisor (formerly Service Magic)
Angie's List
PPF, Inc (event sponsor)
BNI
Get Started with a Free Consultation