Skip to Content
Flexible Cables For Frederick, MD Homes
We Adjust to Your Needs For a Job Well Done
Provident Electric has delivered peerless electrical services since 2002, including complicated electrical wiring systems. Our team works in new buildings, historic homes, and apartment complexes. We have the expertise to determine which type of wiring is best for your building. Whether we opt for an armored cable or a flexible cable, your Frederick, MD property will be better after we finish. But our usefulness extends beyond our experience. We make you feel comfortable by offering insight and communicating clearly. Our team will assess your property and recommend the best electrical wiring system. From there, we will get the job done right.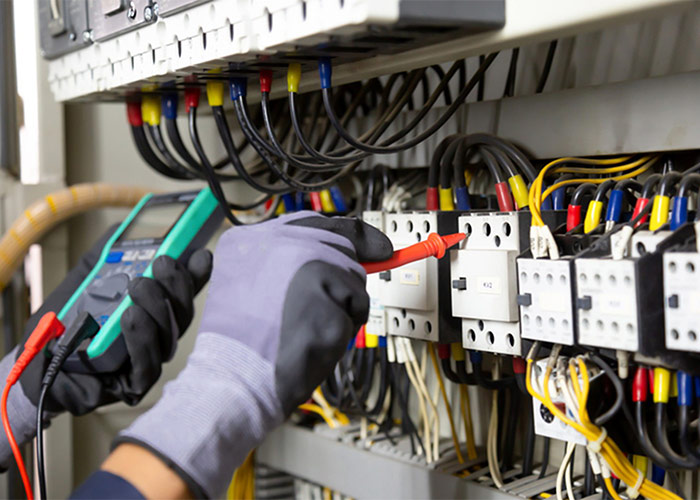 What Is Electrical Wiring?
There is no way to understand electrical wiring systems without first knowing how electrical wiring works. Most people know their fuse boxes, switches, sockets, lights, and fans. These are the components you see and interact with the most. But there is more to your property's electrical system than surface-level elements like that. Electrical wiring is how our technicians connect each element to the main distribution board and utility pole. There are two main methods of electrical wiring: joint box systems and loop-in systems. We know when to use each and how to implement them. Learn more about each technique below.
Joint Box Systems for Easy and Temporary Solutions
Joint box systems are popular for clients who require a cheap but temporary solution. Also called tee systems, they are highly efficient and will get the job done on any property. All the connections to appliances and other electrical elements run through joints formed in joint boxes. Depending on your building's needs, we can use different connectors or cutouts to achieve success. It is less expensive than other options because it does not require many cables, but the price of purchasing joint boxes offsets the cost.
Why a Looping System Makes Sense for You
Loop-in or looping systems are most commonly used in wiring. This parallel approach connects lamps and appliances individually. As a result, when you need a connection to a light switch, it can turn on and off independently. The system loops the feed connector directly to the terminal and carries it forward to the next point in the system. The advantages of a loop-in system include:
They don't require joint boxes, so you will save money.
There are no joints concealed under floors or in roof spaces.
If there is a fault, you can easily find it at the outlets.
Cleat Wiring: Cheap and Inexpensive Wiring
Cleat wiring is a simple and temporary fix designed to provide power to non-permanent structures. They use vulcanized Indian rubber (VIR) and polyvinyl chloride wire, braided and compounded to walls or ceilings using porcelain clay. One of the reasons it is popular on construction sites and festival grounds is you can waterproof it, allowing for safe outdoor use. Because it is not a permanent solution, cleat wiring should not be used at home. The benefits of it include:
It is simple and easy to install.
The wiring is in the open air, making it easy to repair.
It is cheap.
You can customize the installation.
Lead- and Metal-Sheathed Wiring
Lead- and metal-sheathed wiring is insulated with vulcanized Indian rubber, has 95 percent aluminum alloy in the outer casing, and allows the conductor to pass through the wiring. The casing protects the wiring from moisture, mechanical damage, and atmospheric corrosion. One of the reasons it is a popular wiring system for various applications is it is seamless and efficient. You can attach it to the ground at the point of entry to protect against electrolytic action. As a result, leakage will not negatively impact the wiring. We can help you integrate lead- and metal-sheathed wiring on your property.
Wooden Casing and Capping Wiring
Casing capping has a rich history but has fallen out of favor with the emergence of concealed wiring. They use vulcanized Indian Rubber and polyvinyl chloride wire. When we install this type of wiring system, we put the cable in a wooden or plastic casing. There is a parallel groove cut length-wise, which enables our team to run the cable. The cables are also made to separate the anti-polarity. This wiring system is long-lasting and powerful, making it effective and always cheap to integrate. Additional benefits of wooden casing and capping wiring include:
It is inexpensive and easy to install.
We can customize the wiring to your specifications.
The system is protected against smoke, dust, rain, and steam.
The cover is shockproof.
They are easily repaired.
Batten Wiring for Easy to Maintain Power
It is a batten system when you lay wires over a square-shaped, flat strip. It is best used to affix an item – like a wire bundle – to a wall. We can use strips made of wood or metallic to install batten wiring. They use TRS cables at least 10 mm thick, and we can install them at intervals. The most significant benefit is they are easy to maintain and effective. Additional benefits include:
Easy Installation: Because it is a straightforward process, we will not need to be on your property for long. Our team will lay out a clear timetable and be efficient.
Cost-Friendliness: The materials involved in a batten wiring system are inexpensive. Most of the tools involved are found around your house.
Batten Wiring Looks Good: We know how to install batten wiring to help the wires blend perfectly into the background.
Use Conduit Wiring Long-Lasting Effectiveness
Conduit wiring looks good after installation, and the insulation is never damaged. It has a lengthy lifespan due to the quality of the materials, and it is shockproof and safe compared to other types of wiring. Most importantly, there is no risk of fire or mechanical wear and tear. While it is the most expensive wiring type, it does reward property owners with durability. There are two types of conduit wiring: surface and concealed.
Surface Conduit Wiring: As the name suggests, surface conduit wiring sticks to the outside of a wall within a durable containment pipe. We drill a hole in the wall at equal intervals and fix it to the surface. Then we pull the wire through and to the electrical board.
Concealed Conduit Wiring: We conceal a plastic or metal pipe inside a wall by drilling into it. We press continuous pipes without punctures or blocks in the wall. From there, we can hide the wiring. Another bonus is protection from rodents and vermin.
Use Armored Cable for Optimal Performance
Armored cables have become increasingly popular in residential and commercial applications in recent decades. They are highly effective at protecting wires and cables caused by rodents, moisture, and environmental damage. You can feel comfortable with them in a basement that gets water, and it will always achieve top performance. There are several types of armored cables, including:
Single-Phase Armored Cable
Three-Core Armored Cables
4 Core Armored Cables
Don't Overlook Versatility: Choose Flexible Cables
Flexible cables are for customers who require versatility from their electrical installations. Whether due to a uniquely built home or other factors, sometimes you require innovative thinking. Our team has years of experience and knows how to assess the situation and install the suitable cable. Don't overlook the importance of your electrical cable's flexibility when planning changes. We'll help you decide what kind of cable best fits your property. Your choices include:
Stationary: Stationary cables are primarily rigid. However, they do have some give for when you need it. They're cost-effective and do the job when you need a straightforward solution.
Flexible: There are several types of flexible cables, including continuous, rolling, torsional, and bending flex solutions. Which one you choose depends on your situation. We can help.
Underground Feeder Cables for Extension Purposes
We can bury electrical cables to transfer power from your home or business to a patio, porch, or outdoor location. Underground feeder cables are built to handle being submerged for years while providing continuous power from the grid. We have the expertise required to excavate and install your cable safely and effectively. There are two types of underground feeder cables:
UF: EF is a standard option capable of withstanding a specific amount of information.
UF-B: This type of underground feeder cable is more durable and highly graded.
Years of Experience in Residential and Commercial Projects
At Provident Electric, we take great pride in giving our clients what they need. We do so by using our knowledge to install the right type of electrical wire or cable. Our team serves customers throughout Frederick, Mt. Airy, Germantown, Westminster, and Middletown, MD. We have experience working in homes and commercial properties and understand the important differences between the two. You can trust our team. We have seen everything and know how to adjust to the unexpected. No matter what your project throws at our team, you can count on us to do the job. Contact us today to schedule a consultation with our team.
Get Started with a Free Consultation