Skip to Content
Choosing the Correct Generator Sizing in Frederick, MD
Generators are a useful asset when a power outage leaves you in the dark, however, knowing which type to install can get confusing. If you're considering the option of a generator as a backup for your home but are overwhelmed by the many options in sizes and models, Provident Electric is here to help. Even smaller, portable models require the help of a professional electrician before they can be used at your home or business. We'll help you understand which generator sizing is appropriate for your Frederick, MD home and provide any electrical services you need to ensure yours is powered safely. Call us today to set up a free consultation.
Types of Generators
A quick search of backup generators online provides a massive amount of information. Navigating through this mess and finding the best option for your home can be a challenge. Lucky for you, we've got the knowledge to help you make your decision. The first thing you'll want to think about is how many items you'll need to power during an outage and what the collective wattage usage will be. If that already sounds too confusing, our professional electricians can help you calculate the wattage usage of your main appliances, lights, and hardwired equipment. Next, you'll want to match your needs up with an appropriate generator.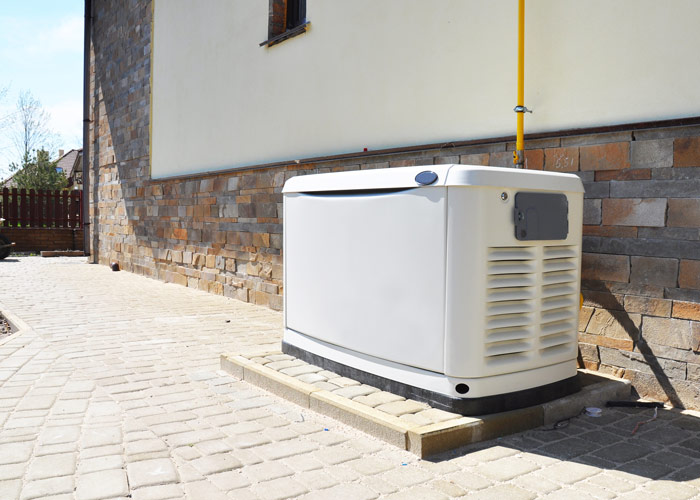 Even smaller models will require the help of an electrician, but here are some main points you'll want to know about the types of generators available:
Portable: Most portable models can power up to 7,500 watts. These generators can be connected to your breaker panel with a transfer switch allowing the ability to run hardwired appliances, like well pumps or small A/C and heating units.
Large Inverter: Large inverter models can also power up to 7,500 watts. This type of generator must be connected to your breaker panel, requiring the help of a professional electrician. This connection allows you to power hardwired equipment and necessities like a furnace or A/C unit.
Home Standby: These models are permanently installed next to your house and are usually tied directly to your natural gas supply, eliminating the need to refuel. Most home standby models can power up to 20,000 watts, which is enough to power the entire home. These generators turn on automatically when a power failure is detected, resulting in uninterrupted power. You won't have to take the time to wheel a portable model out of the garage, hook it up, or start the engine.
Install a Home Standby Generator for Maximum Protection
At Provident Electric, we install Generac generators, a home standby option that provides the most protection when the power goes out. This generator will immediately detect the failure, and everything in your home will run as if your electrical power was never lost. This prevents the loss of food to spoiling and keeps your home at the right temperature if the weather is extreme. Call our team today to learn more about our home standby option or to schedule a free consultation.
Get Started with a Free Consultation