Skip to Content
Choosing the Correct Generator Sizing in Frederick, MD
Generators are a useful asset when a power outage leaves you in the dark. However, knowing which type to install can get confusing. If you're considering a generator as a backup for your Middletown, MD home, but are overwhelmed by the many options in sizes and models, Provident Electric is here to help. Even smaller, portable models require a professional electrician's help before they can be used at your home or business. We'll help you understand which generator sizing is appropriate for your home, give you an idea of the different models, and provide any electrical services you need to ensure yours is powered safely.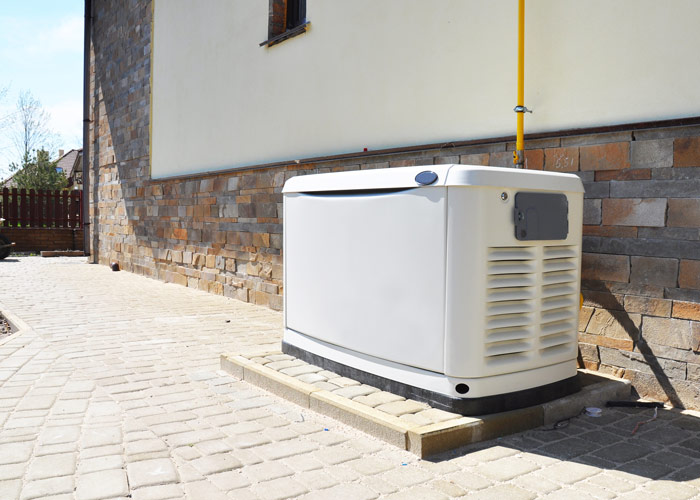 Avoid Generator Undersizing
Smaller generators cannot be used for standby power. Generator undersizing is a common and dangerous myth. You run the risk of not only damaging the unit but also damaging other appliances and assets connected to it. This damage can lead to limits overall productivity, decreases the reliability of the generator, and can even create hazardous situations for your home and loved ones.
Knowing the precise power needs of your devices should always your first step. There are so many generators to choose from: single-phase, three-phase, kW, KVA, welder, standby, or motor starting generators. But more power is always better than less. Speak to a certified electrician concerning the power demands of your systems during an official inspection. Make a note of the starting and running wattage of your items and calculate the total power usage in Kilo-volt amps (kVa) or Kilowatts (kw). These notes will help you determine the proper sizing for the generator you need and aid you when it's time to make your purchase.
Determining Starting & Running Wattage
Determining the starting and running wattage for each of your devices should be an easy task. These values should be clearly labeled on the device's identification plate, or in the owner's manual. Often, however, you may find power requirements in amperes, and you will want to convert that number into watts for more precise data. To do this, you can use the following calculations. You can use these numbers to determine each device's specific consumption needs then match the output of various generators to determine the ideal one for you:
Resistive Load Wattage: Take the labeled number of amperes and multiply it by the number of volts.
Reactive Load Wattage: Multiply the Restrictive Load Wattage by the labeled Load Factor
Types of Generators
A quick search of backup generators online provides a massive amount of information. Navigating through this mess and finding the best option for your home can be a challenge. Lucky for you, Provident Electric has the knowledge to help you make your decision. The first thing you'll want to think about is how many items you'll need to power during an outage and what the common wattage usage will be (see above). If that already sounds too confusing, our professional electricians can help you calculate the wattage usage of your main appliances, lights, and hardwired equipment. Next, you'll want to match your needs up with an appropriate home generator.
Even smaller models will require the help of an electrician, but here are some main points you'll want to know about the types of generators available:
Portable: Most portable models can power up to 7,500 watts. These generators can be connected to your breaker panel with a transfer switch allowing the ability to run hardwired appliances, like well pumps or small A/C and heating units.
Large Inverter: Large inverter models can also power up to 7,500 watts. This type of power generator must be connected to your breaker panel, requiring the help of a professional electrician. This connection allows you to power hardwired equipment and necessities like a furnace or A/C unit.
Home Standby: These models are permanently installed next to your house and are usually tied directly to your natural gas supply, eliminating the need to refuel. Most home standby models can power up to 20,000 watts, enough to power the entire home. These generators turn on automatically when a power failure is detected, resulting in uninterrupted power. You won't have to take the time to wheel a portable model out of the garage, hook it up, or start the engine.
Install a Home Standby Generator for Maximum Protection
At Provident Electric, we install Generac generators, a home standby option that provides the most protection when the power goes out. This generator will immediately detect the failure, and everything in your home will run as if your electric energy and power were never lost. This steady flow of electricity prevents the loss of food to spoiling and keeps your home at the right temperature if the weather is extreme.
Contact Provident Electric for a Free Consultation
Trust our trained, qualified mechanics to find the right power generator for your unique needs. We use only the industry's top testing equipment, on-site at your home or business, to give you valuable insights concerning your space's ideal generator. Call our team today to learn more about our home standby options or to schedule a free consultation.
Get Started with a Free Consultation