Skip to Content
Residential Electrical Outlet Installation Services in Frederick, MD
Upgrade Your Home's Electrical System
The most frequently used electrical interfaces in a home are light switches and outlets. According to the National Electric Code (NEC), each room should only have a certain number of outlets, and your home's electrical circuits must be capable of supporting multiple outlets. Outside receptacles, your garage, and any exposed water source, such as the kitchen and bathroom, all require GFCI-protected outlets.
Call the team at Provident Electric if you have an older home that lacks any of these fundamental code standards. If you aren't sure if your home's outlets and electrical system are up to code or functioning properly, we conduct in-depth electrical inspections for homes throughout Maryland.
We install residential electrical outlets in your home and make sure they are fully up to code. We can even take care of these issues while we're there. If you need a new electrical outlet or switch installed, our Frederick, MD home electricians can take care of it quickly and efficiently.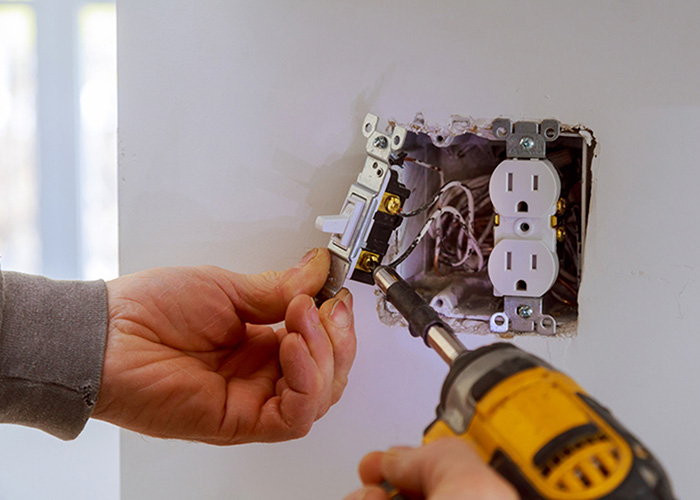 Increase Reliability and Resale Value
Home improvements and inspections are another incentive to update your outlets and switches. Our licensed electricians in Maryland can improve your current outlets by installing modern outlets and switches, as well as whole new electrical systems. One of the most popular upgrades we install are USB ports incorporated into newer electrical sockets. We can also upgrade your outlets to avoid crashes and blackouts from too many electronics plugged in at once. In the modern era, we rely on electronics and devices, such as computers, phones, smart homes, entertainment systems, televisions, and more. And that's just the entertainment purposes. It's important to make the most of your home's electric system to avoid any problems and help support the modern life you live. We can also alter which outlets are always on and which are switch controlled if you have a room with outlets that are linked to a switch
When Should I Replace My Outlets & Switches?
There are a few ways to test to see if it's time for you to call our expert team to replace your outlets and switches:
Plugs fall out of your sockets
Lack of power when you plug in devices
Shocks from outlets when plugging in devices
Switches not working randomly
You have to flip the switch multiple times for it to work
New switches and outlets are great for dependability and usability, such as adding USB slots, as many devices use USB ports to change. They can also add a new level of modern design to your home, increasing resale value as well. Call us today for a free consultation. Our team will discuss the ins and outs of replacing your switches and outlets, your available types, and how we can elevate your home to new aesthetic and electric heights!
Call Today for a Free Consultation
We're tremendously pleased with the job we do at Provident Electric, and we're even more delighted when our customers appreciate it. We hold ourselves to extremely high standards in order to give unparalleled craftsmanship. From 2011 to 2020, Frederick Magazine named us the Best Electric Contractor in Frederick four years in a row, recognizing our commitment to excellence. Many of our previous clients have praised us for our skills in both residential and business projects. Get in contact with us today, and let us demonstrate our level of service.
Get Started with a Free Consultation