Skip to Content
Residential Contracting Services
Enhance Your Home with Expert Residential Contracting Services
Your home is one of the most significant investments you will make in your lifetime. It should be comfortable, modern, and reflect who you are, inside and out. Provident Electric in Frederick County, MD, can help you achieve your dream of the perfect home with comprehensive residential contracting you can trust. Our family-owned and operated company has been working with local homeowners for more than 25 years. We know what kind of residential installations and services you expect from the best, and we take every step to ensure your satisfaction, regardless of your project's size or scope. From thorough home inspections to full-size pool and spa system electrical installations and everything in between, our company is here to bring your unique vision to life. Contact one of our expert electrical contractors today to schedule your free on-site consultation.
Generator Installation & Service
When the power goes out in your home, you want to know you have a steady, reliable backup to keep the lights on and let you get on with life. At Provident Electric, we provide premier generator installation, maintenance, and repairs to do just that. Our trained, certified technicians will work with your unique home setup and make expert recommendations to get you the perfect generator to match your individual needs.
Generator Installation
Once you're comfortable with your selection, we'll handle every aspect of the installation, including setup, electrical work, and home system integrations, to give you dependable power when you need it most. Provident Electric works with all the top names in the home generator industry, including Generac, Kohler, Cummings, Briggs & Stratton backup generators, and others.
Generator Maintenance & Service
Already have a home generator installed but need maintenance or service for optimal performance? Provident Electric techs are the professionals local residents trust! We do regularly scheduled, and 24/7 emergency generator fixes to keep your system running stronger and longer. We test for a battery of issues using state-of-the-art technology and tools and ensure you have dependable power even during the worst storms and most prolonged blackouts. We can also plan generator maintenance schedules that work for your timeframe and budget to extend the life of your generator and keep you connected to your utilities.
Pool & Spa Electrical
A pool or outdoor hot tub makes the perfect addition to your home. Your investment gives you optimal entertainment value, an ideal space for relaxation and fun, and increased home value as well. But you need to have a residential contractor you can trust for your electrical installation before the good times can begin. Our experienced home electricians have the hands-on knowledge and expertise to install your pool and spa electrical systems with ease and provide the dependability, custom lighting, and features you want. From hot tubs and fully automated filtration systems to bespoke water home features and colored pool lights, you can trust our exceptional work to deliver unfailing electrical functionality at the push of a button or flick of a switch.
Lighting
The right lighting can perfectly highlight all the fantastic features of your home. Lighting keeps you safe when heading outside at night, creates an ideal ambiance for good times with family and friends, and allows you to enjoy your home well into the evening and beyond. Provident Electric specializes in contemporary home lighting installation and can customize any setup to bring your unique ideas to life.
LED Lighting
LED lighting is the most efficient, longest-lasting light source available today. When you opt for total replacement of your old lighting with LEDs, you're getting improved efficiency, usage, and capabilities for as long as you own your home. Provident Electric's licensed electricians will make the change for you and give you powerful, green lighting that lasts.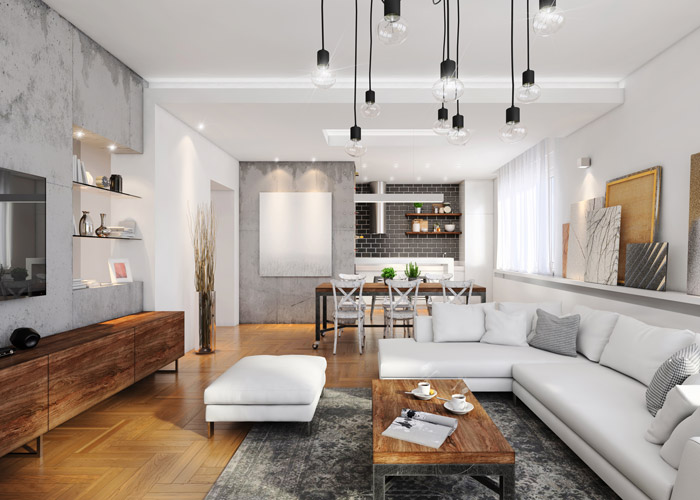 Home Automation
With home lighting automation from Provident Electric, you can connect your light management to your mobile device! Use your cell phone, tablet, or other wireless technology to control usage in any part of your home. Control security features with just your voice. Provident Electric has expertise with the home automation brands you love, like Lutron Caseta, Ring, Google Nest, and others. With sophisticated home automation, you save more money and time while adding convenience to your everyday life.
Home Inspections
Are you experiencing electrical issues in your home? Want to upgrade your electrical but don't know where to begin? Provident Electric does full home inspections to show you what you need! Our technicians will inspect the electrical systems throughout your home, checking for loose or burnt wires, electrical disconnects, code violations, and possible trouble spots. Once we've finished our assessment, we work with you directly and make expert recommendations for electrical improvements, be they custom lighting installations or overhauls of your existing electrical systems.
Recessed Lighting
Hiding light fixtures in the ceiling with recessed lighting gives your home a more open look and minimal ceiling footprint without sacrificing coverage. Perfect for fireplaces, workspaces, kitchens, offices, and artwork, our recessed lighting installations provide versatile customization and complete lighting control for any area of your home.
Contact Provident Electric for All Your Residential Contracting Needs
Opting for Provident Electric for your residential contracting means getting what you want the first time. We can save you more through our expert electrical services and bring your home into the future with advanced installations that do more. Contact us today to schedule your free consultation.
Get Started with a Free Consultation