Skip to Content
Discover the Benefits of a Fiberglass Conduit in Frederick, MD
Trust Provident Electric for Fiberglass Conduit Installation
Commercial and industrial businesses throughout Frederick, Mt. Airy, Germantown, Westminster, and Middletown, MD, choose Provident Electric for fiberglass conduit installation. As one of the area's leading commercial and industrial electricians, you can always count on us to deliver high-quality electrical solutions in a timely manner. We understand how important a safe and functioning electrical system is to your business's success and your customers' safety. Our electricians have the proper training, equipment, and skills to handle any size commercial or industrial project. Whether it's a new commercial construction or you need to replace portions of your conduit, we're the team you can trust. Schedule your free consultation today.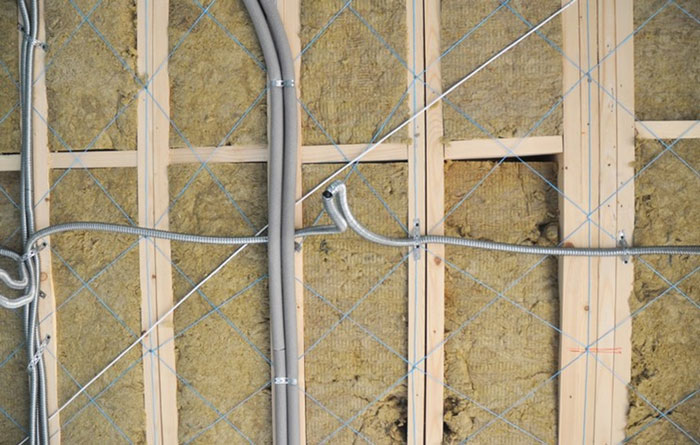 What Are Fiberglass Conduits?
All commercial and industrial construction rely on conduits to guide electrical wiring systems throughout the facility safely. Conduit is designed to house the necessary electrical wiring and protect it from moisture, dust, vapors, impact, and other types of damage. There are numerous types of conduit materials, including metal and non-metal options, such as steel, PVC, fiberglass, and more. Conduit is typically designed and installed by the electrician to ensure the facility's power needs are met, and the wiring is protected. The professional electricians at Provident Electric offer conduit design, installation, replacement, and repair services using fiberglass conduit.
What are the Benefits of Fiberglass Conduits?
A fiberglass conduit is the preferred option for many commercial and industrial buildings. It's manufactured using fiberglass strands and resin cured over high heat to create a flexible yet rigid tubing. This process means that fiberglass has the rigidity to support large electrical wiring systems over long distances. It's also significantly lighter than other conduit materials, including PVC, aluminum, and steel. Making it an affordable option for installation. Some additional benefits of choosing fiberglass conduit over the alternatives:
Superior Durability – Conduit durability is always a primary concern. In industrial and commercial environments, the conduit must be sturdy enough to handle impact without the risk of breaking and exposing the interior wires.
Flexibility – Flexibility is one of fiberglass conduit's defining features. Its flexibility allows for design freedom by allowing movement that other, more rigid options don't. Fiberglass conduit will return to its original shape after minor impacts, which helps to protect the housed wiring better.
Burn-Through-Resistant – Fiberglass conduit acts as a protective barrier between the wiring and commercial or industrial facilities. If a spark is ignited inside the conduit, its burn-through-resistant design will help contain the resulting fire. Similarly, if there's a fire inside the building, fiberglass conduit will help reduce the extent of fire damage by protecting your electrical wiring.
Corrosive Resistant – Over time, a metal conduit may begin to oxidize and break down due to moisture, especially in particularly hostile environments. Fiberglass is corrosive-resistant, making it the superior alternative.
Low Coefficient of Friction – Cable-pulling can cause friction inside the conduit, leading to cable damage and resulting in performance issues. The interior of fiberglass conduits offers a low coefficient of friction, making your cables less prone to damage.
What Commercial Applications Are Fiberglass Conduits Used?
Conduits should always be used when constructing a commercial building. Whether you own a retail location or office space, electricity is crucial to the success of your business. A fiberglass conduit is ideal in many commercial applications because of its durability and versatility. Employees and customers may often encounter your conduit, so protecting both your business and them is crucial. The added flexibility of fiberglass conduit allows it to withstand impact caused by employees and customers while preventing accidental damage or exposure to live wires. Fiberglass is also easy to handle, which allows your electrician to install it quickly. At Provident Electric, we've worked with many of the area's businesses to provide fiberglass conduit installation, including the following types of industries:
Medical Centers
Hotels
Schools
Shopping Centers
Office Locations
What Industrial Applications Are Fiberglass Conduits Used?
Industrial buildings often contain many hazardous conditions, so you need a conduit material durable enough to protect your electrical wiring. That's why fiberglass conduit is the preferred choice for all industrial buildings throughout the area. Whether the conduit is buried beneath the ground or hung high above in the rafters, fiberglass provides plenty of versatility for all your industrial wiring needs. Fiberglass is durable enough to be buried underground. Where other types of conduit materials buckle under immense weight, fiberglass can maintain its rigidity while providing enough space inside for the conductors. Conversely, fiberglass is one of the lightest conduit materials on the market, allowing it to be hung easily. Fiberglass conduit is used in various industrial buildings including:
Warehouses
Utility Facilities
Chemical Plants
Telecom Centers
Refrigeration Buildings
Should I Upgrade Damaged Conduit to Fiberglass?
Improper installation, loose fittings, and material degradation can all cause your conduit to fail. Exposed electrical wires pose both an injury and building safety hazard, which shouldn't be ignored. If your commercial or industrial facility was built before the 1970s, you may have PVC or metal conduit. Replacing your commercial conduit with fiberglass is imperative for the safety of you, your business, your employees, and your customers. Our team of electricians offers conduit inspection and replacement services. Learn more about some of the dangers of ignoring damage to your facility's conduit:
Burn
Electrical wiring can become incredibly hot. Fiberglass conduits provide a heat-resistant barrier between individuals and the wires inside. However, if the conduit is damaged, it can expose the area, leading to severe burns to employees or customers.
Electrical Fire
Damaged or loose-fitting conduit exposes your conductors to physical damage. Frayed, nicked, or otherwise imperfect conductors can cause uneven electrical flow and overheating. It will eventually result in an electrical fire if ignored for too long.
Electrocution
Unprotected wiring is always cause for concern. The conductors inside the conduit are responsible for delivering high voltage throughout the entire facility. If an unsuspected individual comes into contact with a wire due to a damaged conduit, it could lead to injury or death.
Fiberglass Conduit Installation Process
Commercial and industrial building engineers choose fiberglass conduits because it's affordable and easy to install. Due to its versatility, you can feel confident that their electrical needs will be met no matter which type of industry occupies the building. At Provident Electric, our team offers comprehensive fiberglass installation services throughout the area. Our knowledgeable and skilled team has the materials and equipment to ensure your conduit is installed correctly and within your building project timeline. Our comprehensive installation process includes:
Design
We work with engineers and developers to design the building's electrical schematics. Design is an integral part of the process, allowing us to identify challenges before installation.
Installation
Once the plans have been approved, our team will work quickly to install the fiberglass conduit based on the design. It's critical the plan be followed closely to keep costs low and provide sufficient power throughout the property.
Clean Up
After the installation is complete, we ensure our workplace is free of any debris and leftover materials so other crews can work uninhibited.
Leader In Fiberglass Conduit Installation in Frederick, MD
Provident Electric has been providing comprehensive commercial and residential electrical services throughout Frederick, Mt. Airy, Germantown, Westminster, and Middletown, MD, since 2002. Our knowledgeable and experienced team of electricians have the proper training and skills to handle any size project, from residential light switch replacement to fiberglass conduit installation. As a member of the Independent Electrical Contractors Association (IEC), you can always count on our team to deliver a high level of service from initial consultation through to project completion. Speak to our electrician today and discover if fiberglass conduit is suitable for your commercial or industrial building.
Get Started with a Free Consultation