Skip to Content
Residential Electrical Services in Germantown, MD
Commercial Electrical Services in Germantown, MD
Discover trusted solutions for your electrical needs in Germantown, MD, with Provident Electric. As a seasoned family-owned and operated company, we have over 25 years of experience to offer our customers. Our specialized team of skilled electricians is dedicated to providing secure, reliable electrical services for residential and commercial spaces. From intricate projects to exceeding expectations, we are committed to delivering top-tier workmanship with our residential electrical services in Germantown, MD. With 24/7 emergency services, we are your reliable partner for any electrical requirement. Elevate your electrical systems today – contact us for a consultation and experience the quality of Provident Electric firsthand.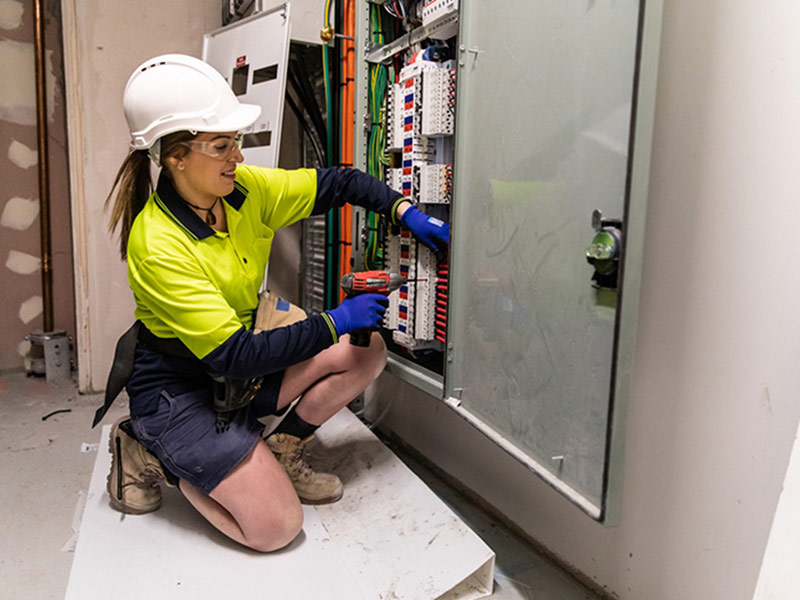 Provident Electric Serves Germantown
Provident Electric extends an array of electrical solutions tailored for Germantown, MD's residential and commercial requirements. As a family-owned and operated business, our extensive experience spans over 25 years. Our committed team of proficient electricians prioritizes delivering reliable and safe electrical services, coupled with exceptional customer assistance. We adeptly handle projects of diverse intricacies and consistently exceed expectations. With 24/7 emergency services at your disposal, we stand as your preferred option for dependable residential or commercial electrical services. Contact us today for a complimentary consultation and experience our expertise firsthand.
Our Electrician Services in Germantown
Provident Electric takes great pride in presenting all-encompassing electrical solutions for both residential and commercial needs across Frederick, Montgomery, and Howard Counties. Our skilled electricians possess the capability to address a wide spectrum of tasks, spanning from diagnosing minor electrical concerns to providing design-build services. Our diverse range of services comprises:
Residential Installation and Wiring – Our offerings include a comprehensive spectrum of residential electrical services, spanning from basic repairs to significant remodeling projects.
Backup Generators – We specialize in the installation, maintenance, and servicing of generator systems, ensuring uninterrupted power supply.
Commercial Business Protection – Our team caters to commercial clients throughout the entire process, from design and construction to installation, maintenance, and repairs.
EV Charging Station – We provide the installation of EV charging stations, fostering energy conservation and contributing to sustainable practices by supplying power to electric vehicles.
LED Lighting Installation and Rebates – Our experts are equipped to enhance your property's lighting through proficient LED lighting installations, potentially resulting in energy savings and rebate opportunities.
Exceptional Electric Contractor in Germantown, MD
Situated in Germantown, MD, we stand as the premier electrical company, driven by a deep sense of pride in delivering unparalleled services to our valued clients. Our dedication is evident in the remarkable work we provide, setting unmatched standards for top-quality craftsmanship within Germantown and beyond. Our skilled electricians are wholly devoted to upholding the highest levels of customer service excellence. Past clients attest to our remarkable capabilities in residential and commercial projects, solidifying our reputation as leaders in the Germantown community. Today, we invite you to experience our services, granting us the opportunity to demonstrate the caliber of service we are known for. We deeply understand the inconveniences caused by electrical complications and assure you that our support is readily accessible to alleviate any worries.
High-Quality Service at Reasonable Prices
Rest assured that your residential or commercial electrical endeavors are entrusted to the expertise of our Provident Electric professionals. Our dedication centers on providing top-tier craftsmanship while maintaining affordability. We consistently introduce appealing offers to ensure our services match your financial plans. Rely on us for exceptional excellence and cost-effective resolutions.
Contact Provident Electric
Unlock reliable and exceptional electrical solutions for both commercial and residential needs with Provident Electric in Germantown, MD. Our skilled team is dedicated to exceeding expectations. Contact us today for a consultation and experience firsthand the quality and expertise of Provident Electric. Your electrical projects are in capable hands.
Get Started with a Free Consultation