Skip to Content
Join the Provident Electric Team Today
Expert Electricians in Frederick, MD and Surrounding Areas
Provident Electric is a family owned and operated business that has been serving the Maryland, Virginia, and Washington, D.C. area for nearly 15 years. We treat our customers like family, offering dependable services along with great customer service. If that sounds like a team you want to join, take a look at our available electrical engineer careers and submit an application. We are currently hiring full-time electricians for a variety of roles.
Find a Rewarding Career at Provident Electric
We offer many perks to our employees to make your work a career, not just another job. We provide competitive salaries, benefits, and the opportunity to grow within the company. Our company benefits include health plans, 401(k), personal leave, paid holidays, company uniforms, and more.
While working at Provident Electric, you'll have the opportunity to provide commercial and residential services, furthering your career as an electrical engineer. As you sharpen your skills and prove your reliability, you'll have the chance to move up within our company.
All of our employees must have their own tools, so make sure your toolbox is stocked so you can provide all the electrical services we offer. You must be able to guarantee accountability for daily start times. At Provident Electric, we pride ourselves on being reliable, so showing up on time is very important. Our electricians represent the company, which means they must be professional and punctual at the job site.
Types of Electrical Engineering Careers
We're currently hiring full-time electrical engineers of various skill levels.
The Service Technician position requires previous experience in electrical service and the ability to work independently. In addition to providing electrical services, the candidate will recommend services to customers and collect payment. This position requires candidates to have a Journeyman or Masters license and/or equivalent years in the trade. This exciting role qualifies for a sign-on bonus.
The Electrical Helper / Apprentice position is great for candidates who are still honing their electrical engineering skills. This candidate will assist lead electrical service technicians, perform minor electrical services under direct supervision, and help with warehouse and service truck duties. Some trade school and/or previous related experience is required. This role qualifies for a sign-on bonus.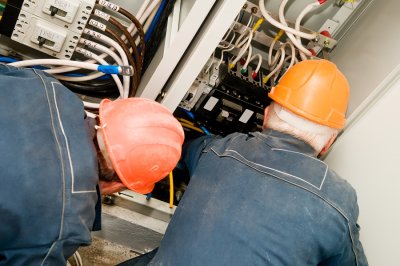 Contact Provident Electric
Current job opportunities are subject to change. No matter what role you apply for, there is room to grow as an electrical engineer at Provident Electric. Since we offer both commercial and residential services, our electricians have the chance to sharpen their skills in many ways. We look forward to the possibility of you joining the team! Contact Provident Electric with any questions about the application process.