Skip to Content
Electrical Wiring System and Its Importance
Basic Systems and Complex Installations: Trust Our Team
If you own a business, then you have to ensure your property is always up to specifications and all applicable building codes and standards. Electrical shortcomings are the most common compliance, safety, and accountability (CSA) violations, so it is essential to understand the importance of correctly installing electrical wiring. Because electrical failures can be severe, ensuring you get things right is essential. Provident Electric understands wiring preparation and can help your Frederick, MD business stay on top of things. We have years of experience, so that you can trust our team. Schedule an appointment today.
Why Hiring Professional Electricians is Best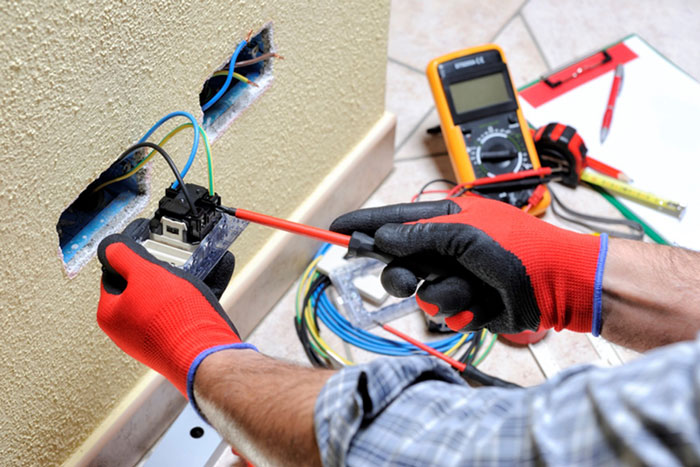 We understand you might be great at installing drywall, renovating a kitchen, or building a deck. But electrical work is a different animal. Shocks and other hazards are life-threatening, so nobody should install wiring without professional training and expertise. Even if you prepare and install your wiring, you might miss a step, resulting in unreliable wiring. The benefits of hiring our professionals include:
We Do Excellent Work: Our professionals know how to prepare and install electrical wiring in various applications. That means we can work in residential and commercial properties. We can inspect and implement solutions to any problems we might find.
We Deliver High-Quality Service: Whether dealing with a home or business owner, we understand the need for efficiency. Our team members know how to install electrical components quickly, safely, and correctly with minimal disruption.
We Ensure Reliability: Don't worry about keeping the lights on or electrical shorts. Trust our experts to perform high-quality repairs and installation so your electrical system is trustworthy throughout the years.
Why Are Electrical Wires Important?
Electrical wires are the building blocks of your system. They distribute large amounts of electricity throughout your building, requiring careful planning and installation for peak performance. Choosing the correct type of wiring is half the battle, but the other is selecting the right team to install it. We know how to work with various types of wiring and how each relates to the next. We'll affirm your choice of wiring conforms to building codes and get started. Proper wiring is needed for any of the following installations:
How to Tell When You Need New Wiring
Electrical wiring is essential because a poorly-wired house is an unsafe house. Our team has years of experience rethinking electrical systems. We know how to use our knowledge to install safe wiring that provides safe and effective electricity throughout your property. While we can wire new properties, our team can also re-wire existing structures. Keep an eye out for the following:
Lights That Dim or Flicker: Power-hungry appliances can cause these problems – especially in older homes. This includes high-efficiency HVAC systems, washers and dryers, televisions, and more.
Weird Smells: If you smell something coming from your outlets, turn the appliance off and disconnect it. Strange smells are unusual and signal serious problems. After that, call our electricians. We might need to upgrade your wiring.
Sparks Flying: It might seem obvious, but it is never good to see sparks flying from your outlets or any other place in your electrical system. An outdated, faulty, or unsafe electrical wiring system could be the culprit.
Overheating Outlets: Outlets should never feel hot. If one does, it is a sign of an electrical issue. We have years of experience identifying root causes. We do not suggest DIY solutions due to the possibility of injury.
Blown Fuses: If you are blowing fuses continually, it might be time to explore new wiring in your home or office.
We Know the Proper Use of Different Types of Systems
We are familiar with different electrical wiring systems and can select the best one for your property. Choosing the appropriate wiring system will prevent fires and minimize risk. Our electricians take our responsibilities seriously. We will consider any of the following commonly-used electrical systems:
Joint Boxes or Tees: While this is not a common system for residential homes, it is useful to know how it works. We would run connections to all appliances through joints. We prepare the joints from the right cutouts, and they will not consume cable size.
Looping System: This wiring installation system is used in various applications. We connect appliances and lamps in a parallel position to control each individually. This series of loops is efficient and trustworthy.
Copper Vs. Aluminum Wiring: How to Make the Right Choice
There is no single factor more important than others when choosing wiring. For instance, copper is a better conductor of electricity, and it isn't close. But that isn't the only thing our professionals consider when we perform wire preparation. It is important to understand that electrical wiring is complex, and completing projects correctly requires extensive knowledge of electrical concepts. In addition to conducting electricity, we consider the following elements:
Cable Size: If you have high-voltage needs for longer distances, your best bet is aluminum. It is more economical and conducts electricity better in this circumstance.
Insulation Materials: Aluminum has 61 percent of copper's conductivity but only 30 percent of its weight. The insulation materials used are also beneficial if you choose aluminum.
Our knowledge of wiring systems enables us to perform an impressive range of services for our residential and commercial clients. From home installation and wiring to backup generators for businesses, you can count on our team to safely implement your wiring system. We will ensure that your electrical system lasts years by choosing the right cables, wires, and method. At Provident Electric, we have satisfied customers since 2002, making us one of the most trusted names in Frederick, Mt. Airy, Germantown, Westminster, and Middletown, MD. Contact us today to schedule an appointment with one of our experts.
Get Started with a Free Consultation