Skip to Content
Commercial Construction Checklist
Are you in the process of planning new construction for your building? If so, then learning about what's included in an electrical inspection checklist should be part of this process. When working with a commercial electrical contractor serving Frederick, keep in mind the following, which are typical elements of a checklist for new commercial electrical wiring :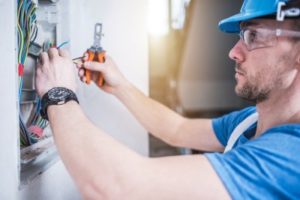 Wiring Methods
Wiring methods refer to things like the bonding of frames, fittings, enclosures, cable sheaths, and cable trays where necessary to ensure safe conductivity and electrical continuity. Another example of a wiring method would be the reduction of electrical noise of grounding circuits, where necessary.
Wiring Devices
Your checklist for the new construction's electrical wiring will include any devices, such as the cutout boxes and cabinets, boxes and conduit bodies, and all receptacles and switches.
Feeders, Services, and Branch Circuits
Part of the commercial construction checklist involves looking at and inspecting all feeders, services, and branch circuits that are part of the wiring.
All Rooms of the Building
Ensuring that your new construction's electrical system is properly wired throughout all rooms of the new building is an important part of your commercial construction checklist.
Grounding and Bonding
Every electrical system requires bonding and grounding, so the checklist should include equipment and services related to these 2 factors.
Special Occupancy Needs
If your electrician will be installing any electrical equipment in addition to the normal electrical system, such as some types of health and recreational equipment, then these fall under special occupancy needs.
Exterior Systems
The exterior systems include electrical wiring that powers items like spas, swimming pools, hot tubs, and any outdoor electrical outlets. Also, any secondary buildings will be inspected.
Remote Control Systems
Does your new construction include features like fiber optic cables, signage, or commercial lighting? If so, then these fall under the category of remote-controlled systems.
Emergency Systems
The emergency systems of your new construction's electrical wiring include generators, standby systems, and other emergency systems that the electrician may need to install.