Skip to Content
Light Up Your Dining Experience
As a restaurant owner, you will want to provide your customers with a beautiful atmosphere that enhances their dining experience. Lighting plays a key role in the beauty and sophistication of your dining area. A team of electrical contractors can provide you with the commercial electrical lighting services to create a beautiful recessed lighting installation for your dining area. With assistance from an electrician serving Frederick, you will be able to create a gorgeous lighting design that completely enhances your restaurant. Here is a look at three tips that will help you create a lighting design for your restaurant.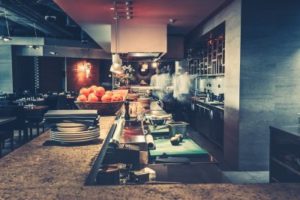 Focus Your Lighting Around Your Interior Design
In order for your lighting to achieve your desired effect, you will need to make sure that your lighting is centered around the overall design scheme of your restaurant. You can use pendant lights or recessed lights to accentuate certain architectural features in your space. A quality lighting design will ultimately coordinate with the other interior design elements that are featured throughout your dining area.
Think About Layering Different Styles of Light
Layering is an important concept to master when you are creating a lighting design for a dining space. Some examples of layers of light include mood lighting, task lighting, and diffused lighting. Diffused lighting from recessed lights can create an overall feel for your space, whereas direct lights from pendants can provide illumination for your dishes. Combining different layers of light will create a sophisticated and beautiful atmosphere for your restaurant.
Use Lighting to Direct Your Customers
Lighting will make an important first impression upon your customers as they enter your space. Your lighting should help your customers identify the host stand, tables, and bar areas. You can even use recessed or floor lighting to help light the way to the different seating areas of your restaurant. A team of certified electricians will be able to work with you to create the restaurant lighting design that makes a positive impression on your customers.