Skip to Content
We Can Finish Home Electrical Projects in Frederick, MD
Trust Provident Electric for Home Electric Projects

Since 2002, Provident Electric has assisted homeowners throughout Frederick, Mt. Airy, Germantown, Westminster, and Middletown, MD, in completing their home electrical projects. As a local business, we understand the importance of maintaining your home. Internet tutorial videos have made DIY projects more straightforward than ever to complete on your own. However, there is no substitution for experience. Electrical projects such as replacing a ceiling fan or installing a new appliance can be dangerous. The slightest mistake can lead to costly issues, damage to your home, and injury. Learn more about the types of projects homeowners try to complete independently. And the next time you're considering handling your home electrical project on your own, contact us. Our team is available 24/7 for all your emergency electrical needs.
Home Lighting Upgrades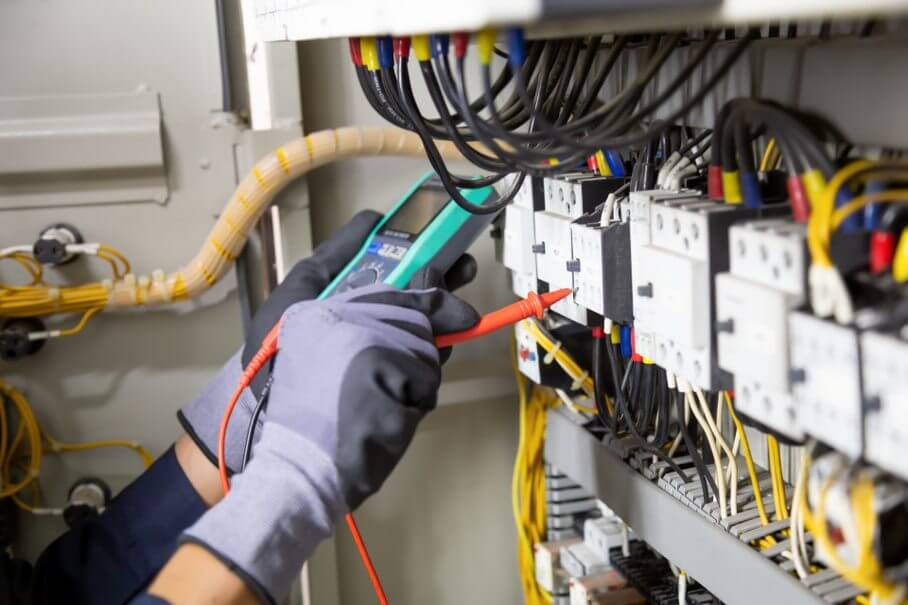 Are you considering upgrading your home's lighting system? Replacing outdated light fixtures provides homeowners with numerous benefits. Maybe you're considering recessed lighting, efficient LED lighting, or dimmers. Whatever you've decided on, we can help. Attempting to upgrade your lighting on your own can be dangerous and time-consuming. Not only do you run the risk of an electrical fire, but you may also need to gain access to the attic or require special tools to make the job safer and easier. We have the skills, training, and necessary certifications to quickly replace interior or exterior lights. Many homeowners upgrade their home's lights for the following reasons:
Reduce Energy Usage
Upgrade Your Home's Aesthetic
Better Lighting
Improved Safety
Increased Home Value
Electrical Wiring Replacement
If you own an older home, you may need to replace your outdated and dangerous wiring systems. Knob and tube, aluminum, and cloth wiring are predecessors to today's wiring system. They are incompatible with three-pronged plugs and receptacles and do not have a grounding wire, making electrical fires more common. When it's time to update your home's wiring system, it's crucial you hire a professional. Not only can it be dangerous to remove the existing wiring system, but installing the new one is just as hazardous if you don't have the proper knowledge and tools. Improper wiring can also place your home in danger of an electrical fire, threatening the safety of your family, home, and belongings. Our knowledgeable electricians can ensure your new wiring system meets and exceeds your needs and is installed correctly. We can help if you notice any of the following issues with your home's wiring:
Non-Compliant
Flickering Lights
Burning Smell
Sparking
Buzzing
Ceiling Fan Replacement
Ceiling fans are a fantastic addition to nearly any room in your home. Whether you're considering replacing an existing fan or upgrading a light fixture, it's a complicated project requiring the services of a trained and experienced electrician. Attempting to install a new ceiling fan without the proper tools, experience, and training can lead to severe injury or damage to your home. Climbing a ladder and rewiring live wires put you at risk of falling or electrocution. Improper installation can lead to a house fire or continual circuit breaker trips. Save yourself the time and frustration while providing your family with peace of mind knowing the job was completed correctly. Some of the benefits of a ceiling fan replacement include the following:
Temperature Regulation
Energy Efficiency
Improved Indoor Lighting
Basement Conversions
Whether you're creating an in-law apartment for your parents, need additional space for a growing family, or renting your basement space, a basement conversion is a fantastic idea. One of the most important aspects of your basement conversion is sufficient electrical. You need to ensure the wiring is up to code and your home's breaker can handle the additional power draw. Attempting to wire an entire basement without the proper tools, training, and materials can be a time-consuming and difficult task. If you're considering converting your unused basement space into a living area, trust a professional electrician to do it quickly and safely.
Outlets and Switch Changes
Outlets, switches, and receptacle replacement are at the top of many "to-do" lists for homeowners looking for effective aesthetic and functional changes. Whether you have a variety of mismatched front plates, need to upgrade your outlets to three prongs, or you've noticed damage, upgrades are an affordable improvement. However, without the right tools, skills, and knowledge, a quick upgrade can take you all weekend to complete while putting you at risk for injury. Our experienced electricians can help homeowners with the following:
Flickering Lights – If your lights flicker when you flip the switch, it may be a sign of a weak connection.
Sparks When Operating – Do sparks fly from your outlet when you plug in your charger or any other electrical device? We can determine the cause and replace the outlet for your safety.
Dimmers – Dimming light switches can be installed to help create ambiance in any room in your home. Our electricians can confirm your lights are compatible with dimmers and install them for you.
Damaged Faceplates – Cracked, chipped, or broken outlet faceplates often hide damage beneath them. Only a professional should attempt to replace a damaged electronic switch or outlet.
Inconsistent Outlet Type – Technology is rapidly changing. Homes built before the 60s may still have two-pronged outlets. We can protect your family by upgrading you to three-pronged outlets.
Added Convenience – Numerous different outlets and switches make life more convenient, including USB-compatible outlets, Bluetooth outlets, and proximity light switches.
New Appliance Hookup
For most home appliances, it's as simple as unplugging the old and replacing it with a new appliance. Unfortunately, that's not always the case. As technology continues to improve, so too do home appliances. An electrician can ensure your high-draw appliances are correctly installed and safe to use. Some of the most common devices our electricians can assist with installing include:
Electric Oven – Are you upgrading your kitchen and replacing your oven? Do you know if your new oven is compatible with your existing outlet? Ranges draw more power than typical outlets can provide. An experienced electrician can ensure your outlet is compatible and, if necessary, replace it.
EV Charging Station – Many new EV vehicles come with an at-home charging kit. Unfortunately, they sometimes require an outlet upgrade to plug in at home. Trusting an electrician to upgrade your outlet for your EV charging station is the right decision.
Dryer – Whether upgrading your dryer outlet from a three-prong to a four or needing a completely new dryer outlet for your home's renovation, call an electrician for your project. Dryers require a lot of electricity to operate, and an improperly installed outlet can cause a malfunction or lead to a house fire.
Standby Generators – Standby home generators protect homeowners when the power goes out. An electrician can install a home generator and connect it directly to your home's circuit breaker.
Do I Need an Electrician for Home Electrical Projects?
Choosing a local, trusted electrician for residential electrical projects is a good decision. As a locally owned and operated company, our team is dedicated to providing exceptional services for our customers. We take pride in ensuring each customer receives the services they need quickly, and our electrical work is always completed to the highest standards. Learn more about why homeowners should trust their home electrical projects to a professional electrician:
Experienced
Time-Saving
Peace of Mind
Prevents Injury
Stays Up to Code
Compatibility
Protects the Home
Responsive
24/7 Service available
Choose Us for Your Home Electrical Projects
Since 2002, Provident Electric has been the community's leader in residential electrical services. As a locally-owned business, we take pride in ensuring our customers are totally satisfied with the quality of our work. Our knowledgeable and experienced team of electricians has the skills, training, and experience to handle nearly any size home electrical project. Whether you're considering upgrading your home's entire wiring or you need a simple ceiling fan replacement, we're the team you can trust. Allow our experts to come to your home, assess your projects, and provide a fair and honest price. Speak to us today and cross your home electrical project off the to-do list.