Skip to Content
Reliable Commercial Electrical Inspections in Middletown, MD
Certified Inspection Services from Provident Electric
There are more components and materials in your electrical system than in any other system in your business. Provident Electric has the experience and know-how to properly inspect and repair the thousands of parts, wires, and devices that make up your system. We proudly service corporations and small businesses throughout Westminster and Middletown, MD. It's essential to have routine electrical inspections to ensure everything is working as it should and that there are no glaring issues. Electrical issues can lead to complications such as fires. Our team offers certified inspection services to help map out and identify any concerns before they worsen. To take advantage of our skills and experience, contact one of our representatives to schedule your free consultation.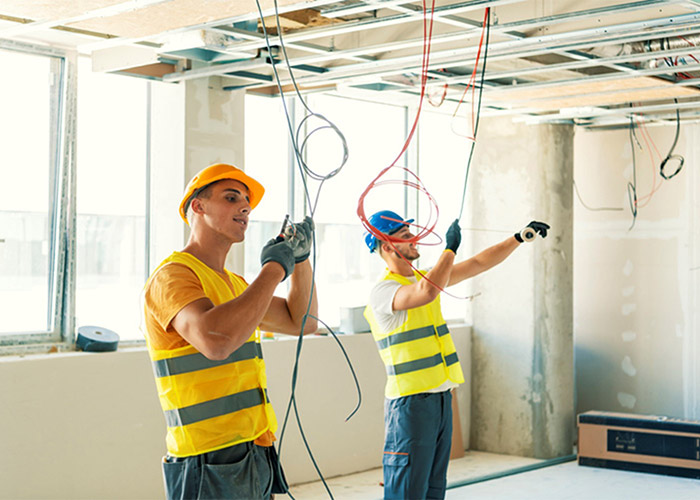 What We Look For During Electrical Systems Inspections
All our electrical inspections are designed to ensure your commercial property remains within the state code and OSHA's standards. They can also help save your business money by avoiding code violations such as unsafe or stolen wiring and helping address any necessary repairs that may be identified. National and local code regulations change every three years. Our certified electric inspectors understand that your business is not only important to you but an expansive investment. Here are some of the inspections we perform:
Quality Assurance Tests on Electrical Components
Diagnostic Testing
Fault-Finding
Routine Safety Checks
Routine Code Checks
What Are the Benefits of Electrical Systems Inspections?
As a business owner, all the maintenance tasks and the upkeep needed to keep your business going can seem endless. With electrical systems, it's essential to keep safety in mind, which is why inspections are vital. Our certified inspection services are designed to help you avoid a costly repair bill by catching complications before they worsen. Here are some additional benefits to routine electrical inspections:
Saving You Money – Electrical inspections can save your business money in the long run. We can help identify possible issues before they become significant repair costs. As an example, damaged wires can lead to a fire.
Avoid Issues with Your Electronics – A system that doesn't work correctly is never sound. Our certified electrical inspections can help you avoid issues arising from a lack of routine maintenance. Essential equipment such as computers or machinery can be damaged by faulty wiring.
Keep Everything Running Efficiently – Routine inspections can make sure everything is running as optimally as possible. You'll be able to keep electricity costs down while increasing the overall lifespan of your electronics.
Ensure Your Business Is Following Electrical Standards – Our certified electric inspectors follow state, federal and OSHA requirements for businesses. The code is routinely updated every three years, and if you want to avoid fees and complications, routine inspections are best.
Take Advantage of Our Electrical Inspection Repair Services
Regardless of the code violations, or complications identified during the electrical inspection, you can rest easy knowing Provident Electric can fix most electrical code violations. Our highly trained and knowledgeable technicians have the skills to correct most issues giving efficient, quick, and immediate security and protection. Some of the services we offer that we can repair or install include:
Air Conditioning and Refrigeration Equipment
Integrated Electrical Systems
Manufactures Wiring Systems
Capacitors Both Above or Below 1,000 Volts
Conduit Bodies, Fittings, and Handhole Enclosures
And More
Reliable Electrical Inspections
Our expert electrical inspectors are ready to assist you. You ensure your commercial property is up to code and free of any potential electrical complications. If any issue is identified, Provident Electric has the skills and know-how to quickly correct the concern while reducing the potential impact on your business. We have decades of experience diagnosing and repairing electrical issues throughout multiple industries. We're proud of the work we do. To schedule your electrical system inspection, call us or use our online contact form. We'll work with you to determine the best time and day that suits your schedule.
Get Started with a Free Consultation