Skip to Content
Keeping You Connected during COVID-19
All of us at Provident Electric are fully aware of the seriousness of the COVID-19 pandemic situation occurring around the world, especially as it relates to our beloved Frederick County community. During this uncertain time, we want to reassure all of our clients that we are on top of the issue, for both our community and our employees.
Provident is still fully open – and we are working to keep you connected! We are taking precautions here at the workplace, as well as in our customers' homes and job sites, to ensure that all of our employees and customers are as safe as possible. We have a team that is working around the clock to stay abreast of the latest news and information related to the matter, and a committee in place to take action as needed. Our company requires all techs to be symptom-free and to maintain sanitary tools and vans while working with our clients.
Provident Electric provides 24/7 emergency service, which we are providing at standard rates (no emergency rate charges) during this period. We are committed to being part of the solution, and we will keep our services available to all residential customers and any local businesses and agencies who may need us, for as long as we are unrestricted.
A few tips to remember for any electrical appointment you have scheduled:
Keep a safe distance in between our techs and yourself during their visit; the CDC recommends at least 6 feet between you and others.
Call in advance if you have any special requests of our technicians prior to their arrival.
If you or a household member has been subjected to the virus, or are having any symptoms, please reschedule your appointment – no cancellation/rescheduling fees!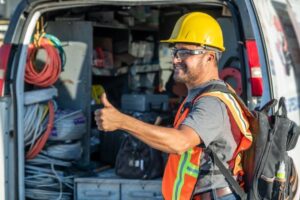 Our office staff is working hard to stay on top of all requests and concerns that come in from our valued clients. Understandably, emergency services are a top priority. We guarantee immediate response for clients with backup generator issues, clients with electrical outages, elderly clients, and emergency service personnel clients. Should we need to reschedule any other clients due to these priorities, we will offer a 10% labor discount for your inconvenience.
Thank you for being a loyal and valued client of Provident Electric, and stay safe.
Warmest regards,
Larry and Patti Touchet
Owners, Provident Electric LLC