Skip to Content
12 Tips to Electrical Safety in Your Home
Middletown's Electrical Safety Leader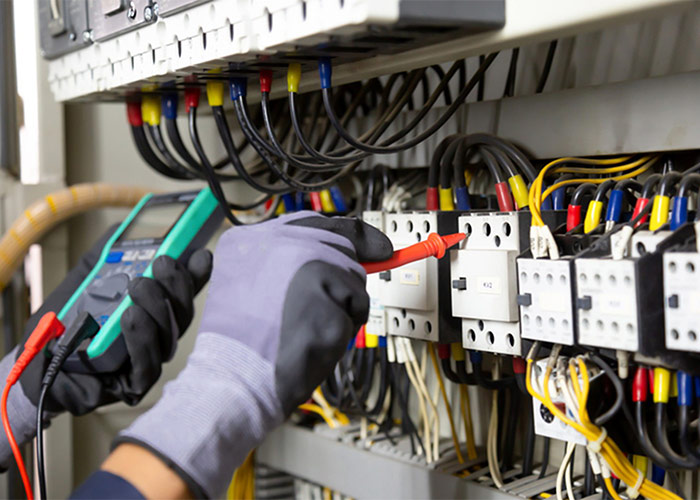 Review Provident Electric's Electrical Safety Tips
You use electricity daily throughout your home, vehicle, work, or school, but do you and your family practice electrical safety? The United States Consumer Product Safety Commission reported that 31,000 electrical fires occur yearly. Over 180 cases, including electricity-related incidents, could have been prevented. For our community in Middletown, MD, electrical safety is too important to ignore. The team at Provident Electric truly cares for our customers and community; we've used our decades of experience working with electrical systems to create a list of some electrical safety tips. By following these 12 tips placed throughout this page, you can prepare and protect your home and family from preventable accidents. If you have any additional questions after reading this, please contact us.
Tips for Electrical Safety for Home
It's possible to avoid electrical damage, shocks, fire, and electrocution injuries by following our straightforward electrical safety tips. We've created a list of essential tips any homeowner should know and use when interacting with electricity. If you're unsure how to approach or handle a situation involving electricity, be sure to contact our team of experts. We're always happy to help. Here are six tips for electrical safety for your home:
Overloaded Outlets – Overloaded electrical outlets cause multiple electrical problems every year. If an overload occurs, an excellent way to tell is if an outlet feels warm, looks scorched, or produces a burning smell. An easy way to avoid this is not to connect appliances with an extension cord and only plug in one heat-producing device at a time. You can always ask our technicians to install an outlet upgrade if needed.
Always Following Appliance Instructions – One of the biggest electrical safety tips we can share is reading the instruction manual when setting up any new electronic appliance. By reviewing the recommended electrical setup, you can help avoid unnecessary accidents. If any device gives you a shock, it's best to leave it alone until a professional inspects the appliance for any issues.
Use Extension Cords Properly – Regarding proper extension cords use, certain appliances, such as air conditioners, space heaters, refrigerators, cooking appliances, and more, shouldn't be plugged into them. Extension cords are primarily used as temporary extensions of reach; you should inspect them before use. If you notice any extension cord that has frayed, cracked, or exposed wires, it should be replaced immediately.
Always Organize Any Unused Cords – To ensure proper safety, even cords not used must be stored correctly. It's best to keep cables away from children and pets, and always avoid wrapping cords tightly around objects. This can damage the wire and lead to stretching or overheating.
Never Ignore Routine Electrical Check-Ups – Routine electrical system inspections are a great way to identify issues, such as old or faulty wiring, before they become more complicated. You can do plenty of things, such as checking that all the light bulbs are compatible with the lamps and fixtures they're in. Other things to look for are pinched wires in windows or doors and ensuring no cables, outlets, or appliances are in contact with water.
Use Ground Fault Circuit Interrupters When Possible – Ground Fault Circuit Interrupters (GFCIs) are vital for any room with running water. GFCIs monitor the circuit for any possible disruptions that would cause a shock. Water is a significant factor that would disrupt the electrical course. While mostly standard in new homes, if you have an older home, it's highly recommended to update to GFCIs to increase your safety further.
Tips for Identifying Signs of Trouble
Following our electrical safety tips is a great way to keep you and your home. Still, unfortunately, there are certain situations in which things happen outside of your control. In the event of a blackout or power surge, following our guide can help protect you. However, these events add some unpredictability to electrical safety. Here are some additional electrical safety precautions to follow during a blackout and to help identify areas of concern. If you find any of these, it's recommended to call for electrical help as soon as possible:
If your circuit breaker is tripping more frequently.
Lamps, appliances, and even outlets start to buzz.
Light bulbs flicker or start to burn out quickly.
Sparking electrical outlets.
If you notice strange odors coming from your electrical devices.
If you're lamps, outlets, and switches feel warm to the touch.
Wires have tears, teeth marks, or any sign of damage.
If you get shocked by an electrical device.
Additional Electrical Safety Tips
Whether the issue is from a blackout, power surge, or an overcrowded outlet, following proper electrical safety is vital to your safety. Provident Electric is dedicated to ensuring all our customers and our community is adequately equipped and has the resources needed to not only protect themselves but to avoid dangerous situations. Here are six additional electrical safety tips:
Keep All Electrical Devices Away From Water – This is probably one of the most important electrical safety tips we can offer. Water and electricity are dangerous; they can damage appliances and cause electrocution.
Unplug Any Unused Appliances – Easily, one of the most straightforward and forgettable tips is to unplug your unused appliances. Clearing them helps you save power by preventing phantom drain, but it also benefits from overheating and possible power surges.
Give Your Appliances Proper Ventilation – Without steady airflow, electrical equipment and appliances can overheat, leading to damage or short-circuiting. In some extreme cases, it can lead to electrical fires. Pay attention to your electric and gas dryers, as they need to be at least a foot away from the wall to function safely.,
Clean Your Exhaust Fans – Certain appliances have exhaust fans that get dirty or clogged. A faulty fan can shorten the appliance's life, but it can cause the appliance to work twice as hard, leading to overheating or buildups that could spark electrical fires. A simple cleaning can help prevent these accidents.
Childproof Everything – Children are curious, but that curiosity can turn towards electrical outlets. We recommend using childproof outlet covers or tamper-resistant receptacles to protect your little ones. These are designed to prevent objects from being inserted into outlets.
Check For the Correct Wattage – Using suitable light bulbs can help prevent issues. If you notice that a light fixture doesn't have a listed wattage, it's safer only to use 60-watt or less. For unmarked ceiling fixtures, use 25-watt bulbs.
Our Home Electrical Safety Checklist
We understand that this is a lot of information to remember all at once. We've put together a simple electrical safety checklist to help ensure your home is as safe as possible. The checklist includes some of the safety tips we've discussed. Here is our electrical safety checklist:
Bathroom – All electrical appliances are away from the sink, tub, and toilet. All cords are unplugged when not in use, and safety caps are in use if you have children.
Kitchen – The refrigerator has enough room for air circulation, and all appliances are used and stored away from the sink. If applicable, devices are plugged into GFCI outlets, and no cords are cracked, frayed, or damaged.
Basement – Circuit breakers are labeled and are inspected routinely. The washer and dryer have plenty of air circulation and do not wobble or stand in a precarious place.
Family Room – All unused outlets have safety caps installed, and none of the light switches or outlets are cracked or broken. All electrical equipment isn't being powered with the use of extension cords. Lastly, everything in the room has proper air circulation, and all the outlets and power strips are not overloaded.
Bedroom – All light fixtures use the proper wattage bulbs and no chords are resting under rugs or furniture. All phone chargers are unplugged when not in use, and lastly, any window air conditioner units are plugged into their dedicated circuit.
Garage – All electrical cords should be free of any cracks, fraying, or damage in any way. It's best to replace them as soon as possible if they are. We recommend ensuring all appliances are unplugged when not in use and that they are plugged into a GFCI outlet. All storage boxes should be placed and stored away from wiring and plugs.
We Put Electrical Safety First
Electrical safety is vital for any home. Following and practicing these electrical safety tips can help protect your home while reducing your risk of an accident. It's always best to work your electrical systems properly. If, after reviewing our safety tips, you have any questions regarding the safety of your home, give us a call. We offer electrical inspections to help identify any possible issues, such as faulty or out-of-date wiring. Provident Electric is proud to help our community and provide outstanding services to Middletown, MD, families.