Skip to Content
Reasons You Should Always Hire a Licensed Electrician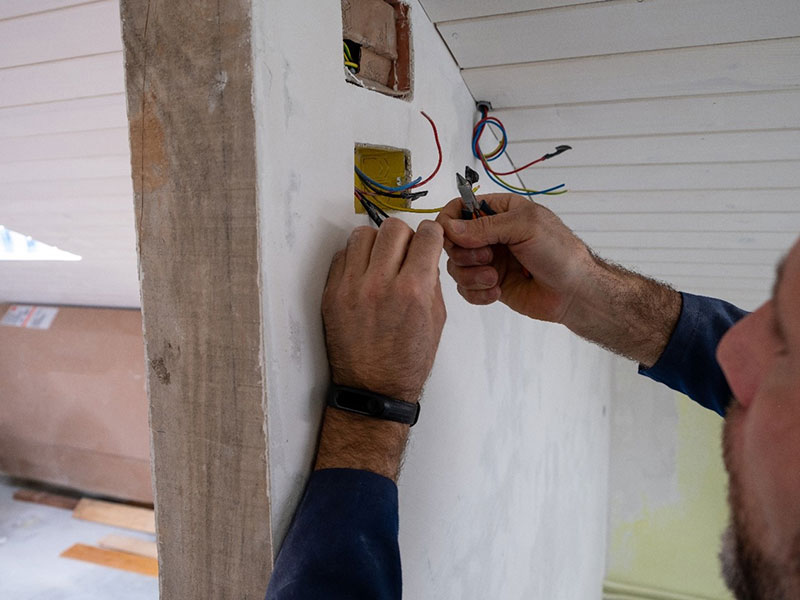 10 Reasons You Should Always Hire a Licensed Electrician
Sometimes being a weekend warrior and doing DIY jobs around the house is the way to go. But when it comes to electrical service, you should always hire a licensed electrician. Provident Electric offers commercial and residential services with our team of licensed electricians in Frederick, MD. It's natural to want to save money and get the job done on your own, but electricity is never something you should play around with. It might be tempting to try it yourself or hire a handyman for your electrical needs, but while you may save a bit of money upfront, you'll likely cost yourself more down the road. Check out these reasons why you should hire our electricians for your home or business, and get in touch with us today to get your free consultation.
Why You Should Only Hire Licensed Electricians
When you need electrical repairs, replacements, lighting, generators, and other electrical services, you should only hire a licensed electrician. Check out these reasons why this is so important:
Safety – One of the main reasons to always hire a licensed electrician is safety. Thousands of people are electrocuted every year in the U.S. Becoming a licensed electrician requires more than 8,000 hours, and it's illegal to work on specific electric work if you don't have a license. Put safety first and make the right choice. If an unlicensed electrician performs the work and a fire occurs, your insurance might not cover it. Licensed electricians know how to stay safe from electricity-related risks. The standard home service panel provides 200 amps. That's enough power to kill someone if they aren't being careful. In addition, there are other hazards, such as working on ladders.
Hazards – Related to safety, there are many hazards that licensed electricians know how to avoid. Proximity to water or young children should always be considered, as should exposed wires. Our team always follows safety regulations.
Time – Even if you are able to perform an electrical job safely, it will take you much longer to do it yourself. Our experienced electricians have all the equipment and expertise to get the job done quickly without cutting any corners. Rushing through the job may result in injuries or mistakes.
Money – You may be tempted to perform your own electrical work or hire a cheap handyman to save money. You'll pay more for a licensed electrician, but it will be worth the cost. The job will be done right the first time. Many DIYers end up having to call in our team after they mess up the job.
Liability – If something goes wrong with your electrical work, you don't want to end up paying for it to be fixed. Our licensed electricians have liability insurance and are covered if they become injured on the job.
Qualifications – Our licensed electricians undergo a vigorous amount of training and testing. Every licensed electrician starts as an apprentice with a qualified master electrician for two to four years. They then graduate to become a journeyman electrician and pass an exam to become licensed.
Surety Bond – All licensed electricians are required to place surety bonds. A surety bond means that they have to pay a predetermined amount of money if they do not perform a job properly. If the job doesn't get done, you get paid. The surety bond shows that your electrician is a professional.
Accountability – Licensed electricians are held accountable by the state electrical division. Someone who brands themselves as a professional but is not licensed may perform work that is not up to code or may bail on the job. If an issue arises with the work of your licensed electrician, you can bring it to the state's division and follow legal proceedings. The state division establishes state-wide standards for everyone performing electrical installation services, so the quality of work is high.
Training & Experience – In Maryland and the surrounding states, licensed electricians are required to complete thousands of hours as a trainee being supervised by a licensed electrician. The average homeowner is just using YouTube videos or faking it, which can be especially dangerous when working with electricity.
Permits & Inspections – Attempting to do your own electrical work means you'll have to spend time and money trying to get permits. Our licensed, professional electricians can save you time and frustration by obtaining the correct permits and inspectors.
Hiring the Right Electricians for the Job
Now that you know more about the importance of hiring a licensed electrician, it's time to choose the right team for the job. Provident Electric was voted the best electrician in Frederick, and we also serve home and business owners in Mt. Airy, Germantown, and Westminster, MD. We treat each customer like family because we're a family-owned and operated company with more than 25 years of experience. We offer professional residential and commercial electrical services for large and small projects. Our team works with Generac generators, recessed LED lighting, home automation, EV charging, and much more. We are proud of our current and past affiliations, including with the Better Business Bureau, Dunn & Bradstreet, Independent Electrical Contractors Association, National Association of the Remodeling Industry, Building Trades Association, Frederick County Chamber of Commerce, Home Advisor, Angie's List, PPF, Inc, and BNI.
Contact Us for Electrical Services
Our licensed electricians are available for electrical repairs, replacements, maintenance, and more. We also offer 24/7 emergency services for home and business owners. Allow us to make your building safer or more energy-efficient. Contact us today to schedule an appointment or get your free consultation.